Dining Diaries: Harrison Keevil Thinks Charlottesville Needs An NYC-Style Deli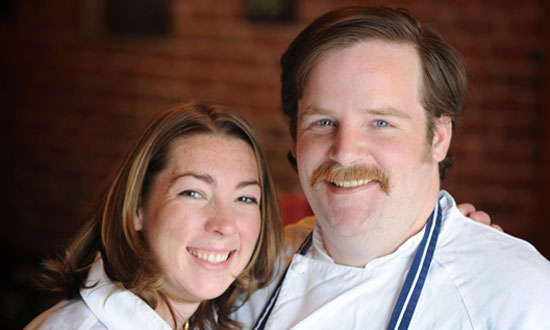 By this point, we're sure you've picked up on the fact that we at The Braiser are not about the food. We're not about the restaurants. We're especially not about the reviews. We're about the chefs. All that celebrity dishy-ness behind the food and the restaurant and the Michelin stars fascinates us. Sure, we looove food, and brag about the fancy places at which we are sometimes are allowed to eat, and will judge you if you "give your stars back," Marco Pierre White. But, ultimately, we want to know what the people serving up the food are all about. Thus: Dining Diaries was born.
Dining Diaries will ask one chef each week about his or her personal favorite dining spots. Not recommendations, or hawking their co-star's newly opened whatever as a PR favor, but where a celeb chef goes to eat or drink or brunch or late-night snack or hangover binge on his own time.
Harrison Keevil is the owner of Brookville in Charlottesville, VA. After graduating from the French Culinary Institute, Keevil did a stage at Heston Blumenthal's Michelin-starred Fat Duck, before returning to the States. In 2010, Keevil opened Brookville, where the menu changes almost nightly in order to utilize only the freshest ingredients.
So, we asked this Virginia native where he likes to go…
To get an after work nightcap: In all honesty, I enjoy having my night cap, usually a beer, sitting at the Brookville bar as the guests finish up. That way I can just take a deep breath and start analyzing how the night went.
For a late night meal: We have a greasy spoon on the corner by the strip of bars around UVA called The White Spot. You go to the counter and order a Gus Burger, which is a burger with the works and topped with a fried egg. If I'm feeling adventurous, I'll order the Double Gus or the Motor Burger.
For your early morning coffee: I'm not too much of a coffee drinker, but if I need a jolt, I'll head to the Mud House. I walk two doors down and order a quad shot. It's perfect right before a busy service.
For a weeknight dinner in the neighborhood: There are a couple of places where my wife, Jennifer, and I like to go. First is Zinc, a New American menu in a very relaxed converted gas station setting. Second, would be Mas, which is a tapas restaurant with a great patio and, when busy, a great atmosphere. Both restaurants play close attention to sourcing locally which is both very important to me and the founding principal of Brookville.
For dinner with visiting friends and family: I would go over to the Clifton Inn, where my wife and I first met, although the food is very different from when I cooked there. Chef Tucker Yoder is doing some amazing things with locally-sourced food that is just different than anything else going on in Charlottesville. It is very ingredient-driven and I very much enjoy that.
To get your favorite sandwich: I like to go to Belair, which is a gourmet gas station that serves pretty solid sandwiches. However, if I'm going to be honest, Charlottesville is in desperate need of a NYC style deli.
For a lazy Sunday brunch: Brookville is actually open for brunch, so I don't have that much of an opportunity to go out, but if I did, it would be to L'Etoile. L'Etoile is another restaurant that embraces the local philosophy and they do a really good brunch. It's a relaxing setting, an old house, and Chef Mark Gresge could not be nicer.
For your weekly grocery shop: There are a couple of places we go. Whole Foods for general stuff and the Main Street Market. In the market there is Feast, a specialty grocer with an amazing meat and cheese selection, an organic butcher, Seafood @ West Main, Albemarle Baking Company, and The Spice Diva.
To order Tuesday night takeout: It would probably be Wayside Fried Chicken.
To while away a sunny Saturday afternoon: It would probably be wine tasting at one of the many great vineyards we have in the area and then ending with a Beer Flight and Bratwurst Pizza at Blue Mountain Brewery. There's a perfect view of the Blue Ridge Mountains.
To celebrate your birthday: I would probably drive to Richmond to celebrate with my entire family who live there and go to Pasture or Comfort. Both are from Chef Jason Alley and both once again celebrate the local bounty.
Have a tip we should know? [email protected]