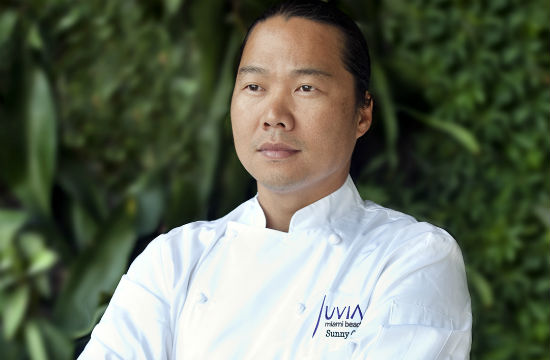 By this point, we're sure you've picked up on the fact that we at The Braiser are not about the food. We're not about the restaurants. We're especially not about the reviews. We're about the chefs. All that celebrity dishy-ness behind the food and the restaurant and the Michelin stars fascinates us. Sure, we looove food, and brag about the fancy places at which we are sometimes are allowed to eat, and will judge you if you "give your stars back," Marco Pierre White. But, ultimately, we want to know what the people serving up the food are all about. Thus: Dining Diaries was born.
Dining Diaries will ask one chef each week about his or her personal favorite dining spots. Not recommendations, or hawking their co-star's newly opened whatever as a PR favor. But where a celeb chef goes to eat or drink or brunch or late-night snack or hangover binge on his own time.
Sunny Oh runs the kitchen at Juvia in Miami. Before taking over, he worked under Nobu Matsuhisa as the first non-Japanese executive chef at Nobu New York. So, we asked the accomplished Oh, where he goes…
To get an after work night cap: Usually the Abbey, a wonderful little local bar that just happens to be walking distance from us. They know what I drink and I always feel welcome.
For a late night meal: Miami Beach is very limited, so for the late night food, if I don't mind driving, it's a place in North Miami called Yakko San. They are open late and I tend to crave Japanese and Asian late at night.
For your early morning coffee: No coffee in the morning for me, usually I drink a sugar-free Redbull to get me jumpstarted.
For a weeknight dinner in the neighborhood: It all depends on how far I'm willing to drive, but usually Korean, if I have the time.
For dinner with visiting friends and family: I guess Juvia is the place people want to see or have heard about, and she is my baby.
To get your favorite sandwich: There is only one place that I continue to frequent or think about. That's Le sandwicherie, and they are never closed — how convenient!
For a lazy Sunday brunch: I'm always at Juvia for our brunch, but before that, Sundays were for dim sum. Tropical Chinese in South Miami if I have the time, but Phillip Ho in Sunny Isles will work as well.
For your weekly grocery shop: No time.
To while away a sunny Saturday Afternoon: I love to get away for the day and Delray Beach is a beautiful beach town that feels like you're somewhere else, without being so far away. It has cute shops and nice places to dine.
To celebrate your birthday: Would have to be Makoto or Hakkasan. Lunch at Makoto and dinner at Hakkasan sounds pretty nice to me.
PREVIOUSLY: David Burke, Michael Chiarello, Chris Hastings, Nicholas Elmi, Jenn Louis
Have a tip we should know? tips@mediaite.com