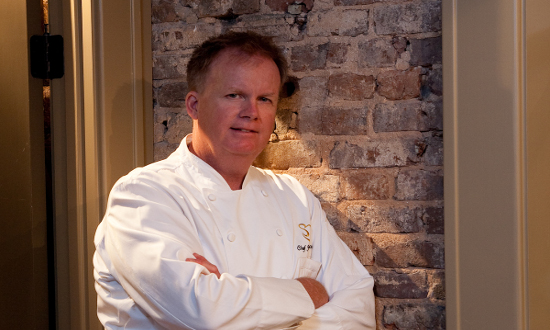 By this point, we're sure you've picked up on the fact that we at The Braiser are not about the food. We're not about the restaurants. We're especially not about the reviews. We're about the chefs. All that celebrity dishy-ness behind the food and the restaurant and the Michelin stars fascinates us. Sure, we looove food, and brag about the fancy places at which we are sometimes are allowed to eat, and will judge you if you "give your stars back," Marco Pierre White. But, ultimately, we want to know what the people serving up the food are all about. Thus: Dining Diaries was born.
Dining Diaries will ask one chef each week about his or her personal favorite dining spots. Not recommendations, or hawking their co-star's newly opened whatever as a PR favor. But where a celeb chef goes to eat or drink or brunch or late-night snack or hangover binge on his own time.
This week, we grilled James Boyce, chef and owner of four Huntsville, AL restaurants: Pane e Vino, Cotton Row, Commerce Kitchen and James Steakhouse. Boyce has been nominated for two James Beard Awards, in 2002 and again in 2009, before receiving Wine Spectator's "Best of Award of Excellence" in 2011.
So, we asked this southern gentleman where he goes:
To get an after work nightcap: For my after work nightcap, I head to our next door local hangout called The Voodoo Lounge. It's the perfect place to listen to music and unwind after a long day.
For a late night meal: The Voodoo Lounge next door also serves food, so it makes for a great nightcap place and light night meal. Can't ask for more than that!
For your early morning coffee: I actually have my own blend of coffee with Royal Cup, so most mornings I'll just brew my own at home.
For a weeknight dinner in the neighborhood: For a weeknight dinner close to the house, I usually head to I Love Sushi. Fun atmosphere and an interesting selection of sushi and sashimi.
For dinner with visiting friends and family: I know, you're probably not supposed to answer your own restaurant, but me and my family love going to my restaurant, Pane e Vino, overlooking Big Spring Park. It's a fun, family-friendly spot and we love listening to local musician, Dave Anderson.
To get your favorite sandwich: My go-to sandwich spot is Lyn's Gracious Goodness. It's an unfussy, perfect lunch.
For a lazy Sunday brunch: Here I go again with naming my own restaurants, but Commerce Kitchen is hands down the perfect spot for Sunday brunch in Huntsville. The Fried Green Tomatoes Benedict is so tasty!
For your weekly grocery shop: For the family, it's Fresh Market all the way. They always have everything we need.
To order Tuesday night takeout: It has to be some great Asian food from Ding How.
To while away a sunny Saturday afternoon: Pane e Vino to relax and listen to great music.
PREVIOUSLY: David Burke, Michael Chiarello, Chris Hastings, Nicholas Elmi, Jenn Louis , Sunny Oh, Waylynn Lucas, Paul Qui, Harrison Keevil
Have a tip we should know? tips@mediaite.com