Dining Diaries: Jeff Michaud Loves Absynthe And Chicken Liver Pate On A Sunday Afternoon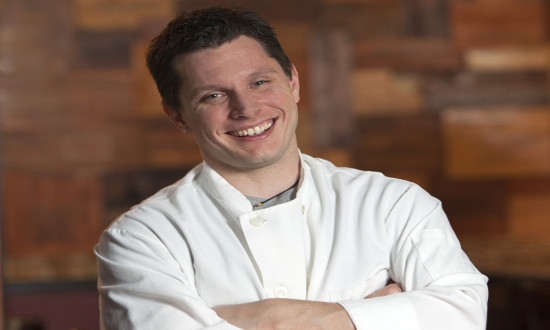 By this point, we're sure you've picked up on the fact that we at The Braiser are not about the food. We're not about the restaurants. We're especially not about the reviews. We're about the chefs. All that celebrity dishy-ness behind the food and the restaurant and the Michelin stars fascinates us. Sure, we looove food, and brag about the fancy places at which we are sometimes are allowed to eat, and will judge you if you "give your stars back," Marco Pierre White. But, ultimately, we want to know what the people serving up the food are all about. Thus: Dining Diaries was born.
Dining Diaries will ask one chef each week about his or her personal favorite dining spots. Not recommendations, or hawking their co-star's newly opened whatever as a PR favor. But where a celeb chef goes to eat or drink or brunch or late-night snack or hangover binge on his own time.
This week, we had Executive Chef and co-owner of Osteria Restaurant and Amis Restaurant Jeff Michaud spill the beans about his favorite places. In 2008, his restaurant Osteria was nominated for a James Beard Award for "Best New Restaurant" and in 2010, Michaud won the James Beard Award for "Best Mid-Atlantic Chef." Michaud has worked in prestigious kitchens all around the world including two Michelin-starred restaurants in Italy. Currently he's involved in the ESF Dream Camp, a program that works with at-risk children in the Philadelphia area.
So, we asked this Philly-based chef where he goes…
For a late night meal: David's Mei Lei Wah — This is a great place to take the staff out after a shift, since they are open till 4am. Broccoli with oyster sauce is a must.
For your early morning coffee: La Colombe. This has become a Philadelphia staple, and no one makes a better cappuccino — except my wife.
For a weeknight dinner in the neighborhood: Route 6. This restaurant brings back memories of what I use to eat in the summer growing up in New England: lobster rolls, Ipswich steamers, fried clam strips I love it.
For dinner with visiting friends and family: Sbraga. Kevin Sbraga has opened a great addition to Broad Street with his namesake restaurant, Sbraga. I hope he still has his foie gras soup on the menu the next time I visit!
To get your favorite sandwich: Paesano's. The Liveracci sandwich is all I need to say!
For a lazy Sunday brunch: Silk City. Marc Bee has done a great job with this diner; really bringing back some of the classics.
For your weekly grocery shop: Reading Terminal Market. This is a great place to get everything you need for the fridge. They have butcher shops, fishmongers, cheese cases and a huge display of vegetables.
To order Tuesday night takeout: Vic's Sushi. This is a hidden gem in center city. They have a counter that seats a max of 10-12 people and when we can't get seated, take out works great.
To while away a sunny Saturday afternoon: Parc is right in front of Rittenhouse Square and they have seating facing the lovely park. Great place to have an apperitivo of Absinthe and some chicken liver pate.
To celebrate your birthday: Amada has become one of my favorite places to eat in the city. I love the way the tapas just keep coming to the table. The spinach salad wrapped in Jamon with figs and gorgonzola can never be taken off the menu.
PREVIOUSLY: David Burke, Michael Chiarello, Chris Hastings, Nicholas Elmi, Jenn Louis, Sunny Oh, Waylynn Lucas, Paul Qui, Harrison Keevil, James Boyce
Have a tip we should know? [email protected]