Dining Diaries: Luis Bollo Is On A Diet…Until It's Time For Korean Fried Chicken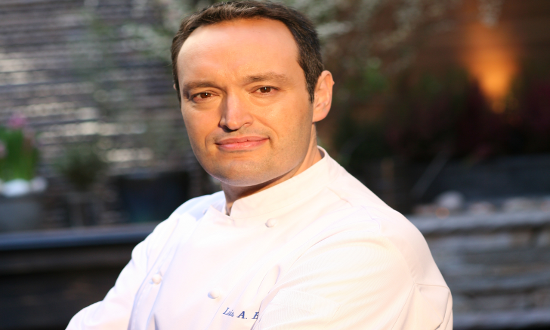 By this point, we're sure you've picked up on the fact that we at The Braiser are not about the food. We're not about the restaurants. We're especially not about the reviews. We're about the chefs. All that celebrity dishy-ness behind the food and the restaurant and the Michelin stars fascinates us. Sure, we looove food, and brag about the fancy places at which we are sometimes are allowed to eat, and will judge you if you "give your stars back," Marco Pierre White. But, ultimately, we want to know what the people serving up the food are all about. Thus: Dining Diaries was born.
Dining Diaries will ask one chef each week about his or her personal favorite dining spots. Not recommendations, or hawking their co-star's newly opened whatever as a PR favor. But where a celeb chef goes to eat or drink or brunch or late-night snack or hangover binge on his own time.
This week, we talked to Luis Bollo, executive chef and owner of Salinas in New York.
To get an after work nightcap: Since I work until late, I tend to order a "Comandante" (one of our signature cocktails made of vodka, fresh lemon, pineapple juice, etc) or Gin and Tonic at Salinas's bar. If I'm in the mood for a beer, I go for a "Estrella de Galicia" which is a Spanish beer.
For a late night meal: Lately I've been on a diet and am trying hard not to eat anything after work. When I get off early, I get a cheese burger at "Better Burger" on the way to Path Station.
For your early morning coffee: "Bergamote" on 9th ave, which is close by Salinas. They serve a great espresso and French pastries. Since in Spain we don't have heavy breakfast, I'm ok with a coffee and a croissant.
For a weeknight dinner in the neighborhood: Unfortunately everything is closed in the neighborhood (Jersey City, NJ) by the time I get off from work.
For dinner with visiting friends and family: "Locanda Verde" or "Dutch" for my friends and family visiting from Spain so they get an idea of a well-done American cuisine with Italian touches.
To get your favorite sandwich: "Il Buco Alimentari" is my favorite place to get a dose of "porchetta" sandwich. Another place I'd like to try is "Rocket Pig," which is just open nearby Salinas.
For a lazy Sunday brunch: "Rubirosa" for a great pizza
For your weekly grocery shop: Whole Foods in Edgewater, NJ and I also shop often at Union Square Greenmarket for fresh, juicy and flavorful tomatoes and peppers.
To order Tuesday night takeout: Korean fried chicken from Bonchon. Their skin is crispy and not heavily battered.
To while away a sunny Saturday afternoon: Are you kidding? None of the chefs I know has a Saturday off. But when I'm on vacation (almost always in Europe), I tend to visit local restaurants. For instance, in San Sebastian, Spain (where I am from), I tend to visit new places as well as the best known restaurants for a long period time like Cuchara de San Telmo for their inventive pintxos (Basque tapas) and Txepetxa for their anchovies. I can wait to go back to Asador Etxebarri (modern Basque steakhouse) and Juan Mari Arzak for fine dinning.
To celebrate your birthday: Last year I went with my wife to Boulud Sud. This year I'd pick Atera and Perla, if I don't to try them before my birthday.
Previously: Cornelius Gallagher Loves His Wife's Chicken Parm
Have a tip we should know? tips@mediaite.com