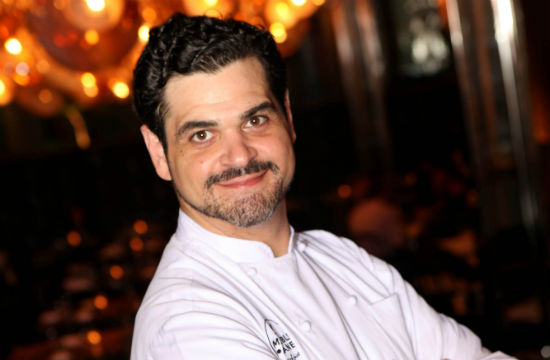 By this point, we're sure you've picked up on the fact that we at The Braiser are not about the food. We're not about the restaurants. We're especially not about the reviews. We're about the chefs. All that celebrity dishy-ness behind the food and the restaurant and the Michelin stars fascinates us. Sure, we looove food, and brag about the fancy places at which we are sometimes are allowed to eat, and will judge you if you "give your stars back," Marco Pierre White. But, ultimately, we want to know what the people serving up the food are all about. Thus: Dining Diaries was born.
Dining Diaries will ask one chef each week about his or her personal favorite dining spots. Not recommendations, or hawking their co-star's newly opened whatever as a PR favor. But where a celeb chef goes to eat or drink or brunch or late-night snack or hangover binge on his own time.
Manuel Trevino is the executive chef at Marble Lane, having previously been the executive chef at LAVO New York when it opened in 2010. He has worked at many prestigious New York restaurants, including Babbo under Mario Batali and Le Cirque. He was a contestant on one of the most well-known seasons of Top Chef, where he competed against Stephanie Izard, Richard Blais, and Spike Mendelsohn.
So, Manuel Trevino, where do you go…
To get an after work nightcap: On the west side, I like Bath Tub Gin or Little Branch. In my hood, I love Jbird.
For a late night meal: I love Chinatown and usually end up at the Great New York Noodle Town.
For your early morning coffee: I don't really drink early morning coffee, but when I do, it's probably because I have to be at work early, so I make my own at the restaurant.
For a weeknight dinner in the neighborhood: You will find me at Toloache 82, eating ceviche and drinking tequila!
For dinner with visiting friends and family: I love Hospoda Czech. It only sells Pilsner Urquell beer and in four ways so you can taste them all, from 'sweet' to 'bitter'. Food is great, too!
To get your favorite sandwich: Can't say no to a pastrami sandwich from Katz's deli.
For a lazy Sunday brunch: I love the Lexington Ave Candy Shop. It's my favorite old school jerk soda fountain the city. Strawberry Malted with an extra scoop please. Root beer floats also rock.
For your weekly grocery shop: I don't have time to shop, so its usually Fresh Direct for me. If I do have time to go out and visit a store, I really like the new Fairway on the UES.
To order Tuesday night takeout: Gracie Mews Diner is the best on the UES
To while away a sunny Saturday afternoon: Saturday afternoons are for LAVO brunch! Quieter Saturdays get spent in Chinatown on a dim sum crawl.
To celebrate your birthday: My birthday, I always go out for a fantastic omakase sushi experience, Maybe one day I'll get to Masa, this year was Sushi Zen. Usual1y my birthday ends with a romp at Goldbar.
Have a tip we should know? tips@mediaite.com