Dining Diaries: Nicholas Elmi Knows Where To Go In Philly To 'Tame A Belly Full Of Booze'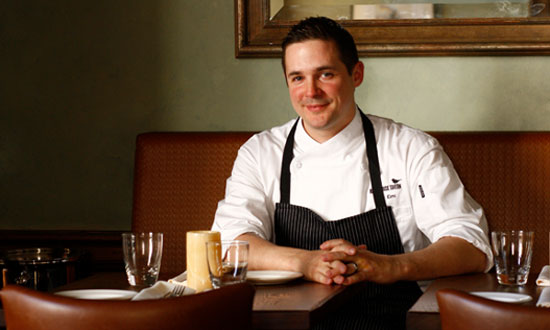 By this point, we're sure you've picked up on the fact that we at The Braiser are not about the food. We're not about the restaurants. We're especially not about the reviews. We're about the chefs. All that celebrity dishy-ness behind the food and the restaurant and the Michelin stars fascinates us. Sure, we looove food, and brag about the fancy places at which we are sometimes are allowed to eat, and will judge you if you "give your stars back," Marco Pierre White. But, ultimately, we want to know what the people serving up the food are all about. Thus: Dining Diaries was born.
Dining Diaries will ask one chef each week about his or her personal favorite dining spots. Not recommendations, or hawking their co-star's newly opened whatever as a PR favor. But where a celeb chef goes to eat or drink or brunch or late-night snack or hangover binge on his own time.
This week we quizzed Nicholas Elmi, executive chef at the recently-opened Rittenhouse Tavern in Philadephia, PA. Elmi has worked with some of the world's most renown chefs, including Guy Savoy at his restaurant in Paris. Before working at Rittenhouse Tavern, he was the executive chef at Le Bec-Fin, also in Philly.
So, we asked this Philly-based chef, where he goes…
To get an after work nightcap: My brother works at a whiskey bar named Time down the street from the restaurant. It's quiet but they also serve absinthe which I love. Plus it's nice to have a relative around to make sure you don't do anything stupid.
For a late night meal: Thai Lake on N. 10th is open late and does very interesting Thai food that can tame a belly full of booze.
For your early morning coffee: La Colombe or Rival Bros. It's a coin flip. I love both of them and I have friends that run both companies.
For a weeknight dinner in the neighborhood: Zeppoli in Collingswood does the best Sicilian food in or around Philadelphia. Joey Baldino does very clean, simple stuff but some of the tastiest food around.
For dinner with visiting friends and family: Lacroix. The food is exciting and innovative without being pretentious. John Chinon is a young chef doing an awesome job.
To get your favorite sandwich: Paesanos on W. Girard makes a chicken liver sandwich that I crave. Peter McAndrews is a classically trained Italian chef doing really cool things in Philly.
For a lazy Sunday brunch: Rouge on Rittenhouse Square. Food is good but the scenery is great.
For your weekly grocery shop: Wegmans. We never had anything like a Wegmans growing up in Massachusetts. They have anything you need for a blowout dinner or just a quick bite.
To order Tuesday night takeout: Han Dynasty. I have friends in Texas who keep bugging me to ship some dry pepper beef or twice cooked pork to them, it's that addictive.
To while away a sunny Saturday afternoon: Rittenhouse Park with the family.
To celebrate your birthday: Last year we went to Blue Hill at Stone Barns, and the year before we went to Le Bernadin. My wife and I have birthdays that are close together so we try to have blow out dinners each year.
Previously: David Burke, Michael Chiarello, Chris Hastings.
Have a tip we should know? tips@mediaite.com