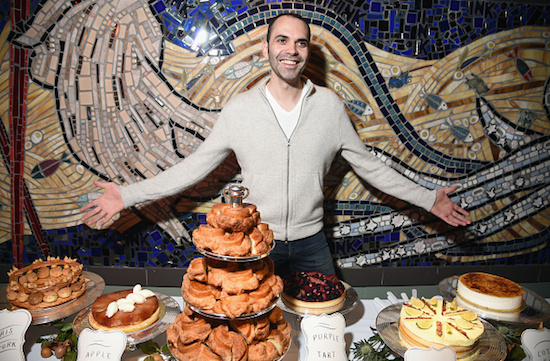 Let's recap: Dominique Ansel has his own epononymous bakery, Dominique Ansel Bakery. Then he announced plans to open up a more "dessert restaurant," if you will, called Dominique Ansel Kitchen. Now comes the news that Ansel will also open a tasting table, called UP (short for "unlimited possibilities").
ABC News explains it better than we could:
This spring, Ansel plans to open "UP," short for "Unlimited Possibilities," a tasting table in his new, larger retail location dedicated to serving exclusively plated desserts. The table will be located directly in the production kitchens on the second floor and will seat only eight to ten people for five to eight courses per seating.
So, more exclusive and fancier than the Dominique Ansel Kitchen and the Cronut haven Dominique Ansel Bakery. (And in case you were wondering, of course there will be no Cronuts at UP, dummy.)
In addition to more high-class desserts, Ansel plans to incorporate cocktail pairings into the mix, too. The cost for UP? $65-per-person tasting menu, which makes this easily one of the cheapest tasting menus in all of New York City. The New York Daily News shares on what could be on the menu, thanks to some handy community board meetings:
A sample menu was presented to Community Board 2 last week and featured pastries like the "Bread and Butter," made from yeast ice cream and brown butter mousse, paired with a "milkshake" cocktail of mezcal, lemon blossom, honey and egg whites. Other imaginative confections featured were a rhubarb carpaccio paired with a carbonated gin float of strawberry and rose sorbet and a "modern Crepe Suzette" paired with a cognac, sugar, lemon and champagne cocktail."
(Excuse us while we wipe drool from the keyboard.)
DNAInfo originally reported the initial community board meeting in which Ansel's spokesperson, Amy Ma, presented UP.* Said Ma to the community board meeting and the liquor licensing committee, ""Our team is very talented … We want them to have a way to not make Cronuts everyday, to really develop their skills."
In short, UP is the grown-up job description as a pastry chef he's always wanted (let's remember, before the Cronut and Dominique Ansel Bakery he was a pastry chef at Daniel). Said Ansel to ABC News:
"It's been four years since I've done a plated dessert. Back then I focused on flavors and ingredients and techniques. These days, I see all those previous components as important, but more than anything there's the need to focus on the emotions and story," he said. "A dessert must leave a memory, not just a taste. I hope our guests will like how we've grown and developed."
*This post has been updated to reflect DNAInfo's scoop on the story, which we originally attributed to the New York Daily News.
[ABC News, New York Daily News, DNAInfo]
Have a tip we should know? tips@mediaite.com