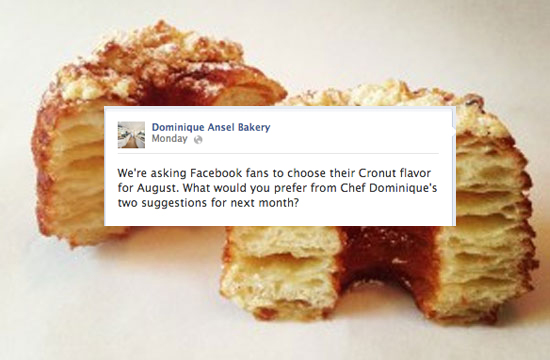 The original cronut was a delicate rose, next came June's hearty lemon-maple, last week brought blackberry for the July flavor and, according to Dominique Ansel's "Food Informants" diary on the Huffington Post, the August flavor is already up for debate.
"We sit down to discuss new fall flavors for Cronuts. The team decides to launch a Facebook contest on what the August flavor should be between two that we're working on: Coconut or Passionfruit. There are 132 comments within the first 2 minutes -– it looks like Coconut is in the lead."
So he isn't really opening the floor to crowd recommendations — too bad because we're sure "the crowd" would unanimously go for something that involves bacon — but Ansel's devotees still have strong feelings about what they will wait in ridiculously long lines for. One commenter replied "coconut" with no less than 42 exclamation points, and another voted for passionfruit, from Beirut. Many want the hybrid pastry bedecked with a hybrid coconut-passionfruit flavor which, like, let's not get crazy people.
Our second favorite part of Dominique's diary was the secret reason he loves getting out of bed at 3:30 in the morning to go to work:
"When you're up this early, you get to see a lot of suits and miniskirts doing the 'walk of shame.' Always makes me laugh a bit."
He also blows the lid off of all your friends tweeting "from the line" at 4:00 AM. Aside from stepping over two sleeping girls on one day of his week-long tell-all, he says the line actually starts later than we all think. "A lot of folks say they're waiting in line by 3:30am, but it's largely exaggerated. I'm here, I don't see anyone."
RELATED:
Dominique Ansel Coming To Late Night Because Questlove Has A Cronut Craving
Momofuku Milk Bar Hustles Crack Pie For Cronuts In Dessert Barter Economy
Man Seeks 'Cronut Slut' On Craigslist In Exchange For Sexual Favors
Have a tip we should know? tips@mediaite.com