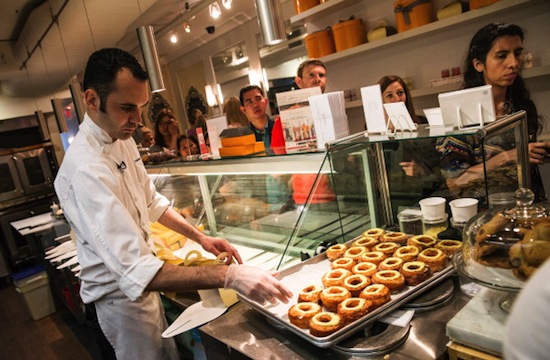 "Dominique Ansel is part pastry chef, part cult leader," reads the first sentence of a Guardian piece about the Cronut entrepeneur — and boy, is that accurate.
Still, the chef wants to be known for more than his fear, love, tear, and rage-inducing pastry:
"I don't want the creation" – he calls the cronut "the creation," as a wry Dr. Frankeinstein might have referred to his monster – "to kill our creativity", Ansel says. "We are actually more known for our creativity than the cronut. And people come because they know we do things that are unusual."
Uh, yeah … but no one's really standing in line for that magic souffle. It's true, that Cronut has become something of a monster. But we admire Ansel's entrepreneurial skills, especially considering his very humble beginnings. What Ansel said about his childhood, and his fuel to do good in his new city:
"I never forgot where I was from. When I was younger, there were days when I was really hungry, when my parents couldn't afford to buy much food. Sometimes, we had just bread and we didn't really have much money to buy food. And nowadays, in a big city like New York, people kind of forget because there's a lot of food, a lot of restaurants, but there is still a lot of people who are hungry in the city. It's something I don't forget and will never forget.

When I have a chance to use the passion that people have for my product and I can use it towards something that's going to do a lot of good for other people, it's a chance for me to do something good. When I saw that I could help and do something like auctioning cronuts, for example, at a charity auction, I happily did it. It's a little bit of extra work, but you just donate some of your time and energy to do something. With all the money we raised last year, we fed hundreds of thousands of people between the Food Bank for New York and God's Love We Deliver auction against hunger. There was one auction where we sold 12 cronuts for over $14,000."
Read more of Ansel's interview here.
RELATED:
Dominique Ansel Brings Cronuts to LA; Are You Happy Now, LA?
Hold Onto Your Panties: The 2014 James Beard Award Semifinalists List Is Here
Nice Guy Dominique Ansel Hands Out Roses to Cronut Line
Have a tip we should know? tips@mediaite.com