With Great Power Comes Great Responsibility: Dominque Ansel Launches Cronut Charity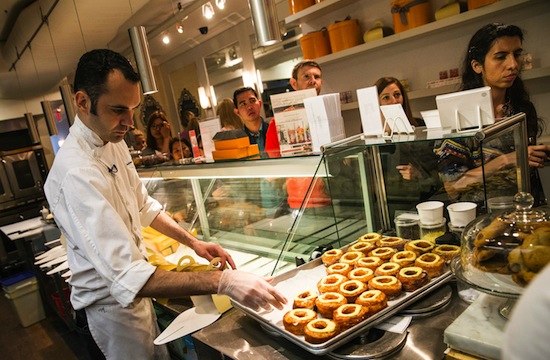 The craze of the summer, Dominique Ansel's Cronut, has left a slew of New Yorkers hungry to try the creation. The now infamous lines, which starts as early as 6:00 AM, has even caused the Braiser to join the madness. Celebrities have wagered their own stardom for a taste.
The pastry's outsized popularity has momentarily crowned Ansel the King of New York, wielding the mighty Cronut as his scepter. But the power of the pastry has caught some discerning eyes, as the lines outside Ansel's SoHo bakery are reminiscent of those waiting outside of food banks throughout New York. One article, and tweet, got a lot of attention:
Some New Yorkers line up for cronuts. Some New Yorkers line up for soup kitchens: http://t.co/uZTAVrn7Bl

— Fast Company (@FastCompany) July 5, 2013
Ansel, who had already started several philanthropic efforts, responded on Twitter urging the Food Bank for NYC to reach out to him. And, by the cream of the Cronut, the effort worked. Together with the Food Bank, Ansel has launched The Cronut Project.
Starting this Sunday, Ansel will give out two Cronuts daily to people who donate to the Food Bank of NYC — one to the concerned citizen who donates the most money the the cause, and another to a randomly selected giver. The fundraiser will take place July 28 through August 2, giving kind-hearted citizens a crack at a passionfruit Cronut, which is being produced exclusively for the charity partnership. For any Scrooges out there, the regular August flavor has been selected, it's coconut.
So it's true, Cronuts do make the world go 'round.
RELATED:
Dominique Ansel's Crowdsourcing The Next Cronut Flavor
Dominique Ansel Coming To Late Night Because Questlove Has A Cronut Craving
The Cronut Has Made It To The Arctic Circle; No One Is Safe
Have a tip we should know? tips@mediaite.com