WATCH: Duff Goldman And The Ladies Of The Talk Make The World's Ugliest Cake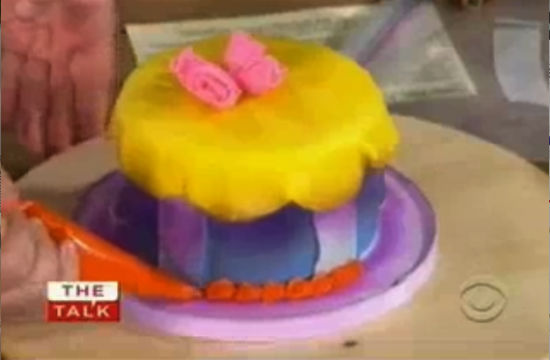 Ace of Cakes Duff Goldman is giving every Top Chef: Just Desserts wannabe the chance to live out his or her sugary dreams by opening up a DIY cake-decorating shop called Cake Mix. What sets his new bakery apart? They'll bake the cake for you, make the frosting for you, roll out the fondant for you, and give you every awesome decorating tool you every imagine and possibly need to build a six foot tall showpiece. You get to just waltz in and play with the nice toys.
So, this is totally cool if you legit want to flex your decorating skills without blowing a wad of cash on fancy equipment. Or, we guess, you could take your kids, and let them get messy, and then praise their (totally terrible) artwork, which we happen to think is a waste of food, but HEY LOOK DUFF BASICALLY DID JUST THAT ON THE TALK.
He brought the hostesses all the necessary accoutrements to decorate their own lovely cake, but for some reason, he chose the clashingest colors ever created by man with which to dye the fondant.
Don't get us wrong; the sight of Sharon Osbourne in goggles using an airbrush gun to spray a cake purple is something we've always wanted to see. And if you think you were clever for choosing Sara Gilbert as the one set with the task of making sugar flowers, Duff, we see what you did there. But this is a truly awful display of color coordination.
Check out the clip below for the best cakewreck we've seen in awhile.
Have a tip we should know? tips@mediaite.com