WATCH: In Which We Prove the Mathematical Possibility of an Eat, Drink, Love Hook-Up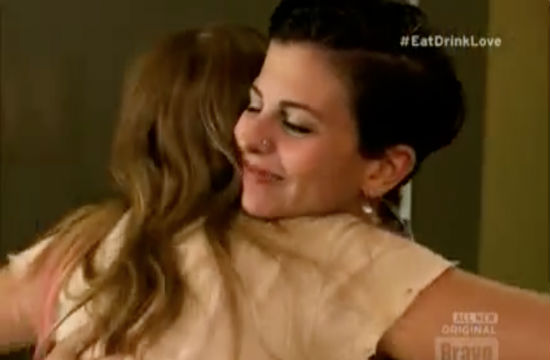 Theorum: Bravo is finally giving us some Ladies Swimming in the Ladypond action (aside from Kim Zolciak's fling with a DJ, Jackie Warner's short-lived Bravolebrity status, and Rosie Pierri's blatantly offensive dildo-phobia).
Proof: The city of Los Angeles collectively believes Kat Odell traverses some ethical gray areas, tending to engage in flirtatious relationships with the subjects about whom she writes, and only writing about the subjects who indulge her flirtations. This has been discussed at length. You know our feelings.
Proof: Nina Clemente shyly approached Kat Odell on last night's episode of Eat, Drink, Love to ask if she could write a blurb on Eater LA about her upcoming pop-up. Kat agrees to throw her a bone.
Proof: "Oh, should I take off my shoes? Gosh, Kat, I'm really yearning for more human interaction."
"Well, I guess I could give you a quicklink."
Are we the only ones reading between the lines, here? This is a pillow fight waiting to happen.
Therefore: If Nina is demurely asking Kat to write about her, and Kat is agreeing to write about Nina, then THERE IS TOTALLY SOME SECOND BASE ACTION HAPPENING OFF-CAMERA SOMEWHERE. Get it, ladies. (If Andy Cohen doesn't address this on the reunion show, we will be LIVID.)
Possibility #2: We're just really starved for some halfway decent queer lady representation on Bravo, desperate to find it anywhere we can, and, for what it's worth, Kat and Nina would be an adorable pretend-couple. How come boys get to have all the fun?
RELATED:
WATCH: All the References to Weight, Plus an Epic Slut-Shaming From Bravo's Eat, Drink, Love Premiere
WATCH: Top Chef's Malibu Chris Inexplicably Drowns in Honeys on Eat, Drink, Love
LA Weekly & Eater Founder Get Into It Over Kat Odell's Portrayal On Eat, Drink, Love
Have a tip we should know? tips@mediaite.com