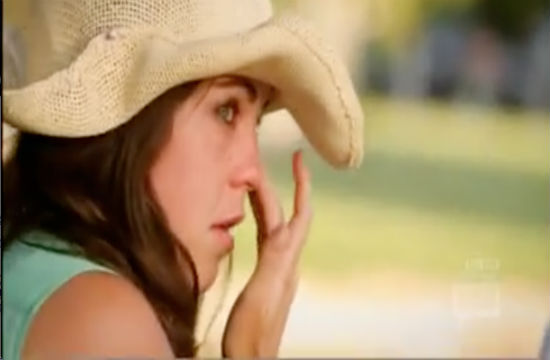 Kat Odell and Brenda Urban are friends again. Jessica Miller and Lindsay the mixologist don't speak. WHY ARE WE EVEN WATCHING THIS SHOW ANYMORE? Oh but wait. Just as cooler heads were beginning to prevail after last night's primary conflict between Brenda and Lindsay during the girls' getaway weekend (read: opportunities for Bravo to fuel drunken brawls with a lot of free wine), Jess busts out the Lay's chips and onion dip.
(You didn't think chips and dip could cause a fight? You're forgetting that this is the girl who fired a person for insulting her crafts.)
Granted, if we were on a wine country vacay with a bunch of food industry women, we'd probably avoid the processed foods aisle when choosing snacks to share with the group. But on the other hand, nothing sounds like a better adolescent-stoner-nostalgia sodium-bomb than a cream-based dip that doesn't require refrigeration on store shelves.
Kat innocently inquired whether the mystery dip elegantly dumped into a serving bowl was hummus, to which Waylynn Lucas replied (right after confessing that she prefers to steer clear of "drama"), "It's trailer park hummus, sweetie. White trash amazingness."
A harmless junkfood joke to make herself feel better about eating/loving it? Probably. But apparently, Jess has some raw white trash nerves. Please observe how tears that can be shed over onion dip below.
RELATED:
WATCH: Eat, Drink, Love Business Deal Falls Through Because Crafts Were Insulted
WATCH: Top Chef's Malibu Chris Inexplicably Drowns in Honeys on Eat, Drink, Love
WATCH: Thomas 'The Pope' Keller Makes a Cameo on Eat, Drink, Love
Have a tip we should know? tips@mediaite.com