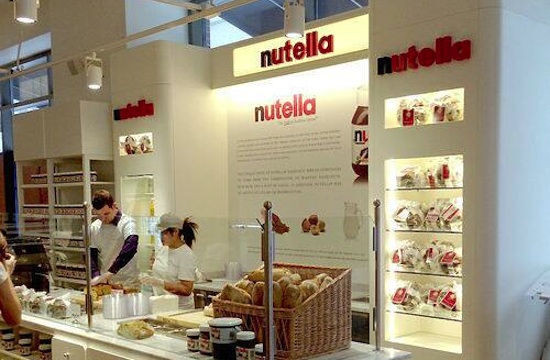 Mainly because of that Nutella bar, but we digress.
Walked through new #Eataly today in Chicago. @mariobatali @jbastianch @lidiabastianich continue to amaze. pic.twitter.com/GS8pJz4nBV

— GRAHAM ELLIOT (@grahamelliot) November 25, 2013
Eataly Chicago, the child of Joe Bastianich, Lidia Bastianich and Mario Batali, is getting ready for its December 2nd opening (just in time for the holidays — oh, we cannot even imagine the horror of navigating a brand-new Eataly during the holiday season with so many hungry people) and it looks prettier than ever. This was once an ESPN Zone, after all, so that 10,000-square foot space is filled to the brim with every imaginable goodie there could be. What's you'll find at the newest Eataly:
#HappyThanksgiving from #eatalychicago #Chicago #eatalydiaries http://t.co/rl106VYATo pic.twitter.com/0OPM9lWkKP

— Eataly (@Eataly) November 28, 2013
Cute Italian boys. (KIDDING! Not really.)
500 seats across 8 restaurants, according to Chicago magazine.
All the typical bars and restaurants you'd find at Eataly in New York — the seafood bar, the mozzarella bar, the gelato bar, the meat bar, etc. etc.
Every imaginable olive oil, duh. (OK, 100 of them — but still pretty impressive.)
Birreria — although from pictures, it looks wayyyyyy smaller than the New York version that sits on the rooftop. (Eat that, Chicago!) According to a press release, the first Dogfish Head beer to be served at birreria Chicago is a "Fl!P" ale, a twist on the beer flip cocktail.
#eatalychicago making the Fl!p cocktail – Dogfish Head Fl!p Ale, rum, brown sugar, egg whites, cinnamon and nutmeg! pic.twitter.com/t9eC2cK1zG

— Eataly (@Eataly) November 30, 2013
We're dying over here.
A NUTELLA BAR. Ok, 1-1, Eataly Chicago. Nutella > beer. (Well, sometimes.)
Anyone wanna check out Eataly next week? They have a NUTELLA restaurant!! pic.twitter.com/WpFhBcGU1j

— Joe de la Rosa (@JoedelaRosa) November 27, 2013
Eataly in Chicago officially opens December 2.
RELATED:
Mario Batali Thinking About Boston Location for Eataly in Faneuil Hall; Please Do That
Joe Bastianich: We Want To Open Eataly China
Eataly Conquers The Seas, Opens Branch On This Cruise Ship
Have a tip we should know? tips@mediaite.com