Eater's Editor in Chief Calls For Real Change in Restaurant Industry (and Not Just Reservation Apps)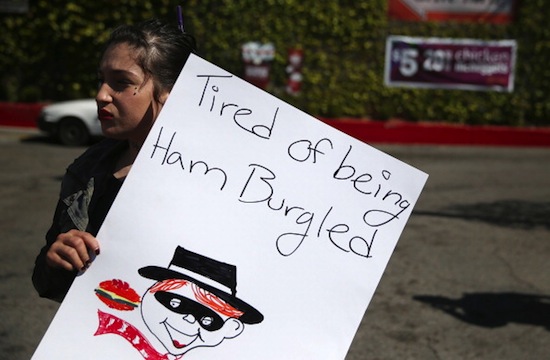 Think she's looking at you, Resy.
Eater's Editor in Chief, Amanda Kludt, published an essay on another site within Vox Media, The Verge, on her thoughts on the future of the restaurant industry. And we liked that our gal called for like, change that will do some actual good for people's lives, not just make getting a reservation easier.
Kludt mentions all the great novelties written about by Eater, us, and every other food media brand out there: the reservation apps, the review apps, the ticketing apps (where's the mention of food porn apps, a la Instagram?). And sure, she says, they will solve a bunch of "inefficiencies" in today's food industry, but "they may just 'solve' a host of non-problems."
Oh, we just call not getting a table at Next a white people problem, but calling them "non-problems" works too.
And yes, Kludt does throw the Resy name into the mix of all these apps, the same reservation app created by the co-founders of Eater, but we digress.
Instead, Kludt hopes that the restaurant industry will bring significant changes to restaurant workers' quality of lives.
What would be a better but less-likely future involves a very different kind of change. It would be a future where the great thinkers and financiers in the field work not to make someone's wait time shorter but to make restaurant workers' lives better. It would be a future where a career in the restaurant industry — from the low end chains to the high end tasting menu palaces — is respectable and dignified. That would mean health care, a higher minimum wage, maternity leave, paid sick leave, equity, and educational opportunities. It would be a future where the industry is divorced from tipping culture and the subminimum wage, where servers don't wildly outearn chefs.
Is it in fact possible? Well, in the far future, maybe when we're all living in spaceships or something. Connecticut passed the first paid sick leave state legislation, and New Jersey is not far behind. Cities like Seattle are upping the minimum wage. But then CEOs, business owners, and restauranteurs decry minimum wage hikes, Obamacare, tipping, even credit card surcharges for Christ's sake, and we are thrown back into a system that devalues just about everyone that makes our yuppie meals possible.
If Eater is out to change the industry to benefit those who work the hardest for our meals, we are 1,000,000 percent in.
RELATED: Sarah Palin Thinks Purgatory is Vegan, No Place To Discuss Minimum Wage Increases
Global Fast-Food Worker Strike Planned for Next Week
Have a tip we should know? tips@mediaite.com