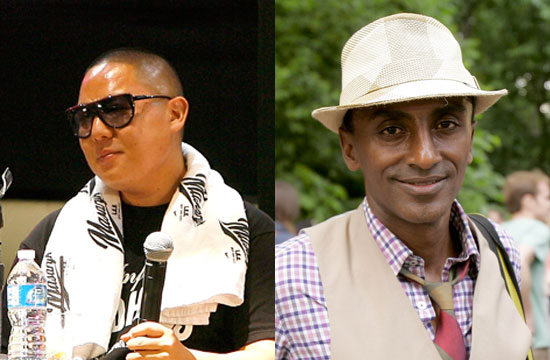 What better time to let loose all your frustrations about Marcus Samuelsson than when his memoir Yes, Chef is about to hit bookshelves? Eddie Huang's op-ed today in The Observer calls out the Swedish-turned-American chef for placing the high-priced, gentrification-ready Red Rooster in Harlem, especially since Huang perceives Samuelsson's take on Harlem — both in the restaurant and in his memoir — as inauthentic, "anachronistic, " and landing squarely on "the intersection of Stigma St. and Stereotype Blvd."
To properly understand Huang's rage, here's a quick summary on the history of Red Rooster: the Ethiopian-born Samuelsson, who made his name in America for his modern take on Swedish cuisine, opened an upscale soul food restaurant in Harlem as an homage to the rich history of the African-American neighborhood. It became famous overnight, bringing in rabid New York foodies, out-of-towners, and the occasional President. What it didn't do, according to Huang, is bring in real Harlem residents.
In his eternal quest for the Authentic, Huang took rapper and Harlem native Shiest to Red Rooster to confirm his suspicions (because "who am I, a Taiwanese-Chinese Stuytown resident by way of Pittsburgh, Orlando, and D.C., to stick up for the real Harlem?" he asks, rightfully so). As Shiest blasts the clientele ("Every time we come it's some extra-bougie extravagant event, and then you can't even get takeout up in there!"), the prices ("Who in Harlem pays $28 for chicken?!") and the hollowness of the restaurant ("This place is like a factory,") Huang wonders why Samuelsson, the man who makes really, really good Swedish meatballs with lingonberries, is now the man with the authority to talk about soul food:
Marcus Samuelsson is a supremely important global voice in America, but that shouldn't give him license to speak for Harlem. By catering to diners outside Harlem and talking down to the ones who live there—promising things like "elevated" soul food—he treats the place like a museum exhibit. He speaks in stereotypes, desperately trying to capture snapshots of villagers dancing, praying, and bespoke-suiting to display in this playhouse of a restaurant.
He goes through Yes, Chef with the precision of a political oppo researcher, highlighting passages that portray Samuelsson as a man more comfortable with a antiquated view of Harlem with an eye for gentrification, and some of them are particularly damning. The thought-provoking article is worth a read, particularly with Huang's admission that Samuelsson, whose memoir recounts a healthy amount of race-based obstacles between him and  his own success, may himself be a lost immigrant whose instinct is to appeal to a higher class of diners rather than to the neighborhood he wants to represent.  "What he doesn't realize about Harlem, soul food and perhaps himself is that they're all good enough already," Huang says. "It's the rest of the world that needs to catch up."
Have a tip we should know? tips@mediaite.com