Eddie Huang: Celebrity Chefs 'Sentenced Themselves' To Feeding 'Tourists And Dumbasses'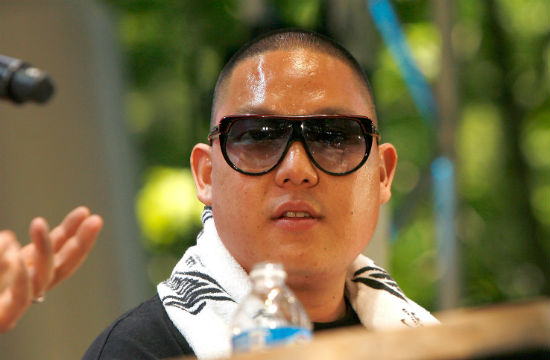 In a recent interview with Variety, Eddie Huang extolled the virtues of doing a web series versus being tied to a traditional television network, and, as you can imagine, chefs were mocked.
Huang actually managed to snag a short-lived Cooking Channel series called Cheap Eats before he walked away, among other reasons, for being pigeonholed as the network's "Asian guy," and having his celebrity chef jokes castrated when they were being made at the expense of his network-mates.
"This show couldn't have happened on a (TV) network," he said of his Vice Channel YouTube series Fresh Off the Boat. "It's fun to do a web show because there aren't any rules. What's been amazing is to have complete creative license to find the stories and tell the jokes you want to tell. This is how people really talk. We're not trying to be anything we're not."
Indeed, swearing has at least 60% to do with why we're obsessed with food-related web series like Eddie's Fresh Off the Boat, Eric Ripert's On the Table, Chris Cosentino's Pork You, and Tom Colicchio's latest Hooked Up. That, and the realistic amounts of drinking.
But, says Huang, chefs who are subjected to the kinds of mockery and derision people like yours truly are obliged to dish out should be prepared for it.
"Chefs don't have to do this…There are tons of chefs who own restaurants, mind their business and turn out amazing food and feed their families. But some have to do this because they decided to open up big box restaurants and they need to fill those restaurants with tourists and dumbasses. They sentenced themselves to this life. They choose this career path. If you go on TV and people make fun of you, you signed up for this shit, dude. I signed up for this. I enjoy doing this. I blog because I have something to say. I love shooting this show because I really like to tell these stories."
Big restaurant from a TV chef which requires the patronage of "tourists and dumbasses" to fill its 500 seats? That sounds familiar…
[Variety]
Have a tip we should know? tips@mediaite.com