Marcus Samuelsson And More Respond To Eddie Huang's Hit Piece On Marcus Samuelsson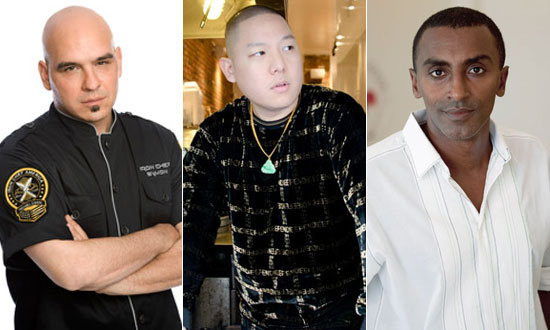 Yesterday's opinion essay by Eddie Huang in the Observer, which posited that Swedish-Ethiopian Marcus Samuelsson was misrepresenting Harlem with his restaurant, Red Rooster, was probably gonna ruffle a few feathers. And accordingly, some major chefs hit back — including Samuelsson himself, who coolly brushed Huang off like he did to the haters before him.
"It's not like he's a relevant person in this place," he told Papermag during an interview promoting his memoir Yes, Chef, "But we live in a diverse environment where people have every freedom to comment. I can live with the fact that [Red Rooster, his Harlem restaurant] created jobs and that we make people happy. I stand by our work every single day regardless of who has a comment."
Meanwhile, perpetually smiley Michael Symon chastised Huang on his Facebook page for bashing a highly accomplished chef with nary an accomplishment to his own name, hinting that Huang was simply looking for attention:
"I was lucky enough to succeed and be around chefs like [Jonathan Waxman, Daniel Boulud, Thomas Keller] etc at a young age. They taught me as much or more about respecting this business as they did about cooking in it, and all I had to do was sit and listen. If the article you wrote makes you feel true to yourself than so be it, but judging by how you are adding up the comments following it I would guess otherwise."
"While Eddie Huang is a good cook, not a fan of his attacking of Marcus Samuelsson," he clarified later, quite harshly. "His writing will be about as long lived as his restaurants. IMHO, as a restaurateur he was no [David] Chang, & as a writer he is no [Anthony] Bourdain."
Food writer Josh Ozersky at TIME, meanwhile, was shaking his head at Huang's racial indiscretion. "Whatever he thinks of Marcus and his authenticity (a loaded question anyway), the bottom line is that Marcus is a black man and Eddie isn't, no matter how many times he calls things 'dope,'" he wrote on Eater. "All due respect, but you just don't go there."
And Serious Eats's Kenji Lopez-Alt wondered "if Eddie Huang has been to Harlem more than once. Wanna see the real offense to the nabe? Sylvia's on Sundays."
While Huang has yet to respond to the (pretty legitimate) criticism against his essay, for the moment he seems to be carrying on with his everyday Interneting, wherein he gets into arguments over Twitter and retweets posts about Muricelago cars.
Have a tip we should know? tips@mediaite.com