Interview With Eddie Huang, Part Two: 'You Want To See Food Porn? We'll Go Make F**king Food Porn."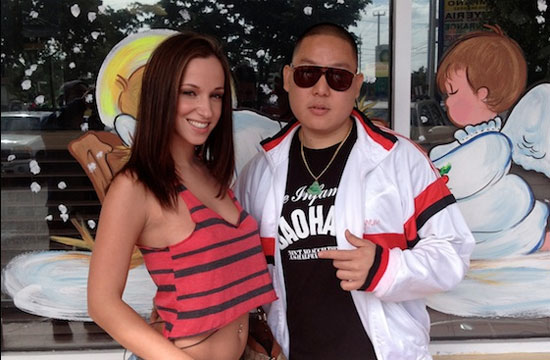 After a long conversation with Eddie Huang about his time in Taiwan shooting an episode of Fresh Off The Boat, we moved on to his finale episode in Miami and more salacious topics — topics that I, as a woman, felt surprisingly comfortable talking about with the provocative restaurateur. However, that doesn't mean the following conversation is in any sense tame, polite, or Pope-friendly. If you are a child or easily offended, please proceed with caution.
I wanted to jump to the episode after [Taiwan], which is set in Miami [and will air in February]. In a conference call from earlier last month, you mentioned that one of the locations you visited was the Bang Bus. So for the people out there who don't know (which I imagine consists of no one, but for their sake), could you explain what the Bang Bus is?
The Bang Bus is a van, that, uh, basically, they shoot videos — they pick up random people off the street to have sex with porn stars on. They're kind of like the Publisher's Clearing House of pussy. "Guess what? YOU WON!"
Obviously, this is kind of an unusual place to shoot a travel food show segment. Why did you pick the Bus? How did you even come up with this idea?
This is the thing with food: When the food world tries to be "edgy," it's so bad at being edgy. People get such a kick out of the word "food porn," and then the people that the food world tries to label as "bad boys" and "troublemakers" — I'm really not a bad person. I'm just a goofy kid. I like to cause trouble, and I like laughs, but I'm not, like, a bad guy. But the food world…this industry for the longest time was trying to serve stay-at-home moms, and people who watch daytime television. Their standards were such that the conception of "edgy" or "pushing the envelope" are, to me, just like, child's play.
Right, I understand that, but [the stunt] is going to cause a lot of controversy. Lots of fainting and smelling salts.
What I was meaning to say was, that's how I feel about it at times. There are all these blogs, there are all these websites, and at the end of the day, the news on it really is not that risque. I don't see too much on there, day to day, that's edgy or radical or really just, "Wow, that's really interesting what they're talking about, or what this person is doing."
Anyways, I was always thinking, "Yo. People love that word 'food porn'." They just love that colloquialism. And I'm like, "When you say 'food porn', half the time it's just some dumbass making scrambled eggs with some lox mixed in on Sunday mornings, on Instagram. (Sarcastically.) "Ooh, look at my food porn!" And I was just like, "You know what? You want to see food porn? We'll go make fucking food porn." So that's what we did.
So did you make "fucking" food porn, or did you make "fucking food porn"? 
(Solemnly.) These people dropped fucking lobster sauce all over this van. Everywhere. And, you know, it was wild.
(Dies of laughter)
I don't think any other person doing food television is going to go into the Bang Bus and do a show, so it was kind of neat to be there. With this show, we want to up the ante with everything. We really feel like coverage of food culture, and culture in general, needs a reboot. I think you've seen it in all our episodes. We slaughtered a rabbit. We're not trying to do these as visual gags. We're trying to say, "Look, if you want to be tongue in cheek, to make a joke about it, if you want to be ironic about it, go do it. If you want to make food porn, go meet a porn star. Go see what she eats. Go see how she thinks."
I really had a lot of interest and a lot of questions, I really wanted to know how this business runs. I also wanted to demystify a lot of preconceptions about porn stars, because people always say, "Oh, they were touched by their uncles! They were abused! They have, like, low self-confidence!" There are studies online that say that porn stars have the highest self-confidence of women in America.
Wow.
Yeah.
So who did you end up eating with? Could you tell us a little about her?
We ate with Jada Stevens. She was awesome! It's a cliche to say that she's a nice girl, but she was really fun. I like Jada a lot. She was very forthcoming about how this is a business for her — here's another cliche, she wants to be a marine biologist — but she's serious. She supports her[self], she supports her mom. I think I'm part of a generation that doesn't stigmatize porn stars as bad, or even as hoes. I see them as businesswomen… This girl, she treats it like a business. She has bodyguards everywhere she goes — in many ways, her life is run like a boxer's. She has the same bodyguards that Floyd Mayweather had. Like, the money team. But Floyd boxes, and she fucks.
Did she bring any perspective from her industry to the food at all?
She talks about food in terms of what she eats on shoot days. Unless she was a porn star who was really into food, and had things to say about food and food culture and followed it, I wasn't gonna ask her questions like, "Who's your favorite chef?" or "What's your favorite restaurant?" I was going for: "Alright, in your world, food from your perspective, how do you see it?" And from a working girl's perspective, you can't eat on days you do anal. I thought that was interesting. And I think a lot of people find it interesting. When you do certain types of scenes, you can't eat food.
What other porn stars would you have liked to eat with on the Bang Bus?
My first pick was actually Brianna Love.  I'm a big Brianna Love fan. I thought she was interesting. She started off as a topless limo driver, and then she moved into porn. I remember that when she was pregnant, she did porn, and I was like, "She's crazy!" The second one is Cytherea. She's a very interesting character. She was down and out for a while. There were rumors that she had herpes, and then she was on crack. I kind of want to see what happened to Cytherea.
I follow porn stars. I don't know anyone on The Voice, I don't know anyone on American Idol, but I know porn stars.
I think most men would say that, but they won't say it out loud. Except you just did, so congratulations!
You know, I think in this current time right now, people think I'm crazy, or people think I'm ridiculous. But I think I just want to try and cut the crap, and pave the road, so that other people can speak their mind on these topics. That's what I'm doing with this show.
Coming soon: Memoirs, Danny Bowien, and two angry Asians.
Have a tip we should know? tips@mediaite.com