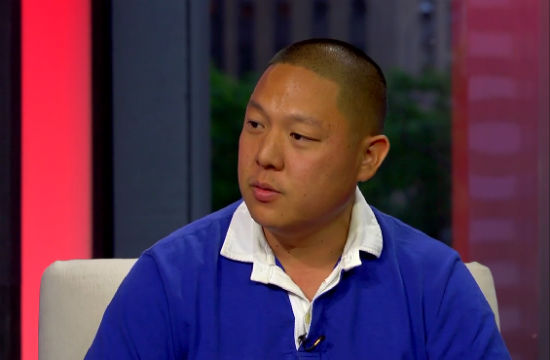 2014 was the year of Eddie Huang — or so we thought. Turns out, as we learn from New York magazine and Vulture, that the process of turning baller memoir Fresh Off the Boat into a neutered ABC sitcom was f*cking rough. But, we get some more insight into the still-tender race relations of Asian-Americans, as only Huang can so expertly put it.
Coming from Huang's perspective, it's easy to see his frustration: "I didn't understand how network television, the one-size fits-all antithesis to Fresh Off the Boat, was going to house the voice of a futuristic chinkstronaut," he writes. Huang takes us through the back and forth of the initial idea of turning Fresh Off the Boat into a TV show, and the production (even Margaret Cho played a fairy godmother role in it all). It wasn't always pretty:
A few weeks after we taped, [executive producer] Melvin kept blowing up my phone.

"We tested the show, and there may or may not be a handful of butt-hurt white people …"

"Success!"

"Maybe. But listen, white people keep you on the air. They have to feel included. If people understand our perspective, they won't be offended. So I pitched them an idea. We gotta hold the viewer's hand through this because they've never been inside an Asian-American home before."
Eeeee yikes. But still, Huang sees a promo for the TV show while watching college football and "taking bong rips," and makes some important realizations.
After 18 months of back and forth, I had crossed a threshold and become the audience. I wasn't the auteur, the writer, the actor, or the source material. I was the viewer, and I finally understood it. This show isn't about me, nor is it about Asian America. The network won't take that gamble right now. You can't flash an ad during THE GAME with some chubby Chinese kid running across the screen talking shit about spaceships and Uncle Chans in 2014 because America has no reference. The only way they could even mention some of the stories in the book was by building a Trojan horse and feeding the pathogenic stereotypes that still define us to a lot of American cyclope. Randall was neutered, Constance was exoticized, and Young Eddie was urbanized so that the viewers got their mise-en-place. People watching these channels have never seen us, and the network's approach to pacifying them is to say we're all the same. Sell them pasteurized network television with East Asian faces until they wake up intolerant of their own lactose, and hit 'em with the soy. Baking soya, I got baking soya!

It doesn't sound like much, but it is. Those three minutes are the holy trinity Melvin, Randall, Constance, Hudson, Forrest, Ian, and I sacrificed everything for. Our parents worked in restaurants, laundromats, and one-hour photo shops thinking it was impossible to have a voice in this country, so they never said a word. We are culturally destitute in America, and this is our ground zero. Network television never offered the epic tale highlighting Asian America's coming of age; they offered to put orange chicken on TV for 22 minutes a week instead of Salisbury steak … and I'll eat it; I'll even thank them, because if you're high enough, orange chicken ain't so bad.
Leave it to Huang to turn a headline into a surprisingly nuanced, highly intellectual story. The whole thing is worth a read.
[Vulture]
Have a tip we should know? tips@mediaite.com