Juan Mari Arzak Cried For 2 Days When Daughter Was Named World's Best Female Chef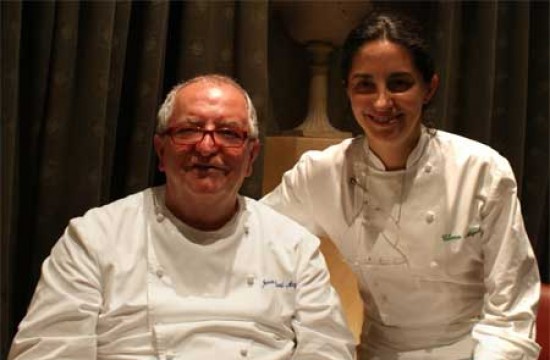 If you haven't been paying attention to the evolution of Basque cuisine and its place in the modern world of dining, you may not be aware of Juan Mari Arzak. If you're a hardcore food person, you'll know that even at 70 he's one of Spain's dining titans, with Arzak maintaining a 3-star Michelin rating since 1989. But it's the relationship with his 42-year-old daughter, Elena Arzak, that catapulted Arzak into the top tier of the San Pellegrino Top 50 Restaurants In The World. This year, Arzak maintained its rank at number 8, and Elena won the Veuve Cliquot Award for Best Female Chef.
And Juan is the proudest dad you can possibly imagine, crying for two days straight after he learned that Elena won the award. He'd always known that she had an extraordinary palate: "When she was five years old I took her to the best restaurant in San Sebastián," he told the Guardian Observer's Food Monthly. "She asked for her meat 'less well-done but warm'. I was embarrassed." But after she declared that she wanted to be a chef, spending six years training in the kitchens of Pierre Gagnaire, Ferran Adria, and Alain Ducasse, Juan allowed her to collaborate with him in the family's 115-year-old restaurant.
Elena admits that her father "risked very much with the ideas he started to make with me," but one thing that Juan never doubted was her talent — even if she was a woman in an industry then dominated by men:
"I am 70 in a month," he shrugs. "My life is very long. It has been very special. She is a woman, I am a man. But in cooking there is only a plate. Sometimes she makes dishes I don't like. Sometimes I will make dishes that she won't like. But we make many, many dishes on which we agree.

"I have given a lot to her, she has given a lot to me. Our cooking is not from Juan Mari. It is not from Elena. It is Arzak!"
Have a tip we should know? tips@mediaite.com