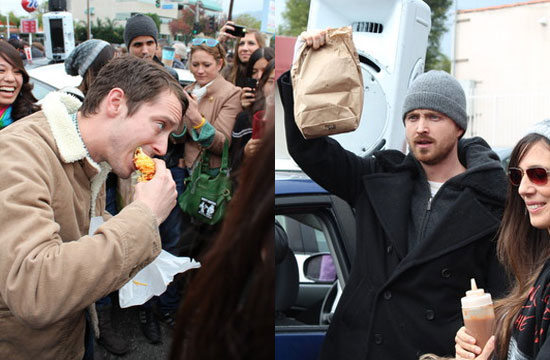 What do Frodo Baggins, Jesse Pinkman, and George Lopez have in common? Apparently a love for Los Angeles's Henry's Tacos, the "gringo" Mexican stand which has been in continuous operation for 51 years — that is, until its owner announced recently that she would have to shut down her business after her landlord raised her rent by 150%. Moreover, the landlord refused three (3!) prospective buyers who wanted to purchase the business so it could continue in its current location. (An LA City Councilman speculated that the landlord wanted to develop the property, but hadn't submitted any plans to do so as of now.)
Thus, Lopez decided to host an eat-in, announcing that for one hour this past Sunday, he would pay for everyone's tacos. And though Lopez couldn't be there in person, actors Aaron Paul of Breaking Bad and Elijah Wood of The Hobbit showed up, looking for their delicious taco meth/Precious, respectively.
"I would come here with my family," Wood said, according to the Daily Mail. "We would get take out and take it home, or sit out on the benches, my brother and I and my dad and my mom and my sister…So a good amount of my early childhood and my teenage years were definitely spent hanging out at this place."
Thanks to their Twitter followings, over 500 people showed up and ate delicious tacos (while some of them also dressed up), overwhelming the owner, Janis Hood.  Today, she and her five-man staff are taking the day off to recover from the taco hordes, who swarmed them like a cross between the armies of Mordor and the Juarez Cartel.
Have a tip we should know? tips@mediaite.com