Elizabeth Falkner & Gabrielle Hamilton Hang Out In Real Life Like The Besties They Are In Our Dreams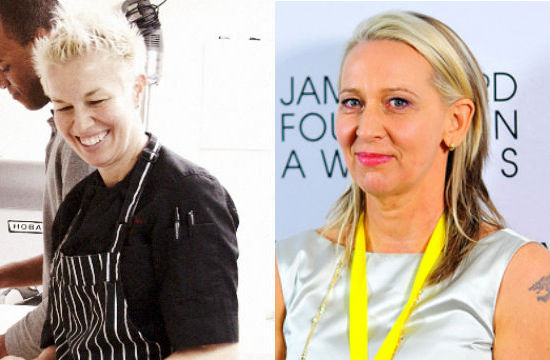 Elizabeth Falkner, chef of the newly/successfully opened Corvo Bianco and general light of our lives, was the star of Grub Street's "New York Diet" this week, and, as if we couldn't fangirl out any harder over her, it turns out she, too, drinks an alarming amount of coffee, has a dachshund named Hendrix, stress-eats cookies just like the rest of you, and hangs out with her good friend Gabrielle Hamilton at Prune, in a manner which we only imagined happening in our wildest fantasy chef dreams.
Writes Elizabeth, after a long night of service:
"I headed to Prune later to visit my friend Gabrielle Hamilton, and she immediately gave me a shot of gazpacho and some fried chickpeas. The bartender made me a great cocktail of gin and rosé, and I chatted with Gabrielle while she cleaned up and set up the kitchen for brunch the next morning."
Y'know. Just a couple of badass ladychef friends. Hangin'. Like they do.
Also, Falkner's hour-and-a-half commute between her Brooklyn abode and her Upper West Side restaurant means that sometimes she just collapses at home with Oreos for dinner, which is certainly something we're not at all familiar with: "I was too hungry and it was too late, and I ended up eating a sleeve of Oreo cookies and milk before going to bed."
Followed by a mildly disconcerting sugar binge post-dentist's appointment:
"I had novocaine mouth, so I had a Java Chip and two black-and-white cookies at Starbucks before walking into work. They were soft. I don't want to eat junk food: I've been eating cookies because it's stressful. I find myself saying, 'I've got to eat something! It's an emergency!' But I have to take care of myself, too."
Here's the thing, E-Falkz: we're no strangers to the phenomenon of stress cookies. We prefer to self-medicate with them using a little moderation plan we call "one day on/one day off." Guaranteed to help you avoid diabetes!*
You can read her whole food diary here.
*We have no medical basis to substantiate this claim.
RELATED:
Stacy London's Adorably Neurotic Dinosaur Paleo Diet
LCD Soundsystem's James Murphy Gets Resto Recommendations From David Chang, Forages For Noma Recipes
5 Booziest Moments From John Legend's Wife/Model Chrissy Teigen's Food Diary
Have a tip we should know? tips@mediaite.com