Emeril Lagasse's New TNT Show Features Home Chefs Vying to Cook for Chili's, Other Chains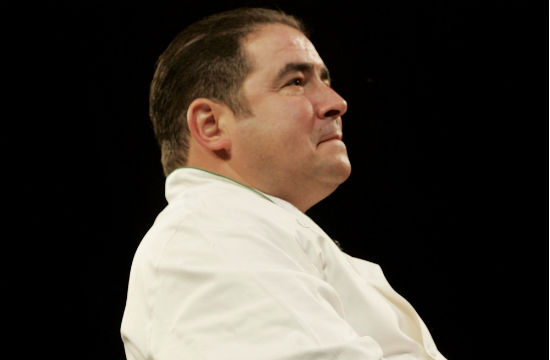 From Top Chef to, uh, Chili's, Denny's, and the Cheesecake Factory.
Emeril Lagasse will be hosting a brand-new series on TNT, On the Menu, in which home chefs will create a dish each week in the hopes it will be featured on a national restaurant chain's menu. (Or, as the press release puts it, "Eateries participating in On the Menu cover a wide range of cuisines, from traditional barbecue to modern fusion." Uh huh.") Among the restaurants featured are Chili's, California Pizza Kitchen, Dickey's Barbecue, Planet Hollywood, and Outback Steakhouse. "On the Menu is the first cooking competition show ever to give viewers the chance to taste the winning dish after every episode," says the press release, which promises that the winning dish will appear on the chains' menu the very next day.
It's no secret that Lagasse has had a complicated history with food TV. Lagasse left the Food Network because of major brouhaha between him, his agent, and the network. His New Orleans Top Chef season put him, his city, and his talents in the spotlight; said Lagasse of Top Chef at last year's NYCWFF, "I got involved with Top Chef because the talent is spectacular. I love the production – it's the real deal – there's no pretension." And you know, he was a BA on Treme. But this whole schlupping for the Denny's (will there be something better than the Grand Cru Slam involved?) strikes us as … out of character.
Then again, we don't say no to Cheesecake Factory.
RELATED: WATCH: And the Winner of Top Chef: New Orleans Is…
Top Chef New Orleans Last Chance Kitchen: And the Winner Is…
Allen Salkin on FN's Culture Crisis: 'The Network Itself Doesn't Know What A Food Network Star Is Anymore
Have a tip we should know? tips@mediaite.com