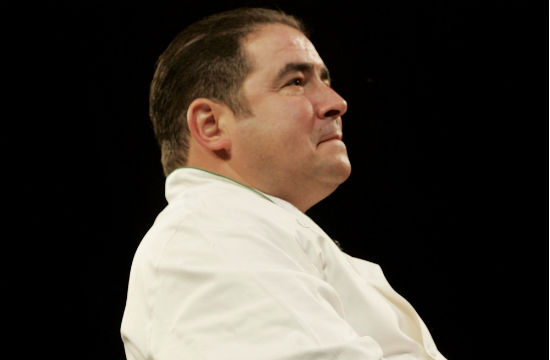 We're all used to Emeril Lagasse and his larger-than-life persona (Heck, the Food Network was practically built on it) but at his Times Talks event at the New York City Wine & Food Festival this week, he was calm Emeril. Almost spookily soft-spoken Emeril.
Emeril spoke with journalist Kim Severson at length about his early days on TV with The Food Network. While The Food Network may have encouraged Emeril to get on TV in the first place, his mass appeal allowed them to grow and reach more people than they could have imagined. Years were spent flying between New York and New Orleans without a day's vacation, but once Emeril Live! became a smash hit, Emeril's celebrity chefdom fate was sealed forever. As Emeril described it, he left The Food Network because what the executives wanted and what he was giving them was no longer on par. Emeril left without any hard feelings, at least not any he will admit. His thoughts at the time – "I'm getting out and I have nothing to be ashamed of – I made this channel."
Today, Emeril's latest TV venture has been with Top Chef. While he never watches any of his own shows, he has now not only appeared on Top Chef, he's helped write and produce some episodes. Apparently he's a huge fan – "I got involved with Top Chef because the talent is spectacular. I love the production – its the real deal – there's no pretension".
When asked why he's never opened up a restaurant in New York City, Emeril admitted that he's had "about 30 opportunities" but gave no concrete answer except "New York is a very special and different place". Well, that clears it up! When talking about the Pete Wells review of Guy Fieri's Guy's American Kitchen and Bar, Emeril made an aside that "I put a copy of the review on my pillow to remind myself why not to open a restaurant in New York".
Paula Deen inevitably came up in the conversation, and Emeril said he didn't have much of a comment to make except that "I like Paula Deen, she'll be back. She's a strong lady and she had talent. She got a bad rap". This seemed to echo the sentiments of many of the chefs who were asked about Paula throughout the day.
Have a tip we should know? tips@mediaite.com