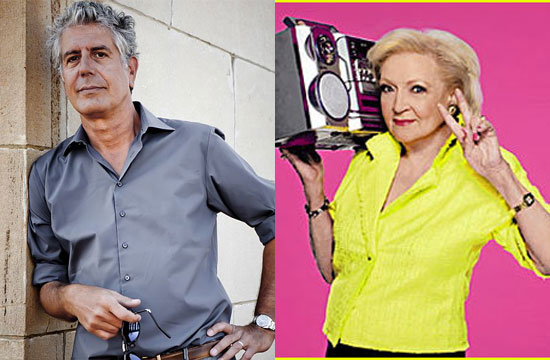 While Top Chef secretly plots to kill off The Amazing Race in this year's Primetime Emmy Awards, we'd like to congratulate Anthony Bourdain for pulling off the unthinkable and getting himself nominated for Best Host for his work on The Taste. Yes, the show everyone, including ourselves, was really fond of hating. But nominated he is, and win he might, were it not for a tiny octogenarian temptress: Betty White.
Yes, Betty White is now Anthony Bourdain's Emmy Nemesis (TM), thanks to her groundbreaking work on Off Their Rockers, a hidden camera prank show starring America's Olds. While her show was canceled by NBC merely a week ago, her sweetness, charm, and panache at flipping people off has been recognized by the Academy of Television Arts and Sciences. This is what she does, and this is the stuff that should have Bourdain quaking in his very, very tall boots:
Do you think we're joking? Betty White might actually be Bourdain's biggest competition in this category. The other nominees don't stand a chance. Cat Deeley for So You Think You Can Dance? Dead. (EDIT: My associate asserts that Deeley and the show are "actually critically acclaimed and actually firmly in the running.") Heidi Klum and Tim Gunn for Project Runway? Dead (though we love you, Papa Gunn). Ryan Seacrest for American Idol? Dead. Tom Bergeron for Dancing With The Stars? He'll be dancing with the stars…in heaven, because he'll be DEAD. (Actually, he won last year, and probably might win again this year, but let us have that one joke, please.)
The Anthony Bourdain-Betty White death match is upon us. Which leads us to this question: if they were dropped into a pit, each armed with nothing but a butter knife and their respective caustic wit, who would win? The only thing we know for sure about that matchup is that Bourdain gets a +3 for reach.
In non-Taste-related Emmys, Bourdain and the Zero Point Zero team also received four nominations for their work on Parts Unknown: Outstanding Informational Series, Outstanding Writing for Nonfiction Programming (the Libya episode), Outstanding Cinematography for Nonfiction Programming (the gorgeous Myanmar episode), and Outstanding Sound Mixing for Nonfiction Programming (also the Myanmar episode). On sheer volume of Emmys alone, Bourdain wins this round.
[h/t The Los Angeles Times]
RELATED:
Anthony Bourdain: Being On The Taste Was Like Flying A Fighter Jet
Buddy Valastro Made A Cake Boss Ode To Betty White
Top Chef Gets 7th Primetime Emmy Nom; So Does Longtime Nemesis The Amazing Race
Have a tip we should know? [email protected]