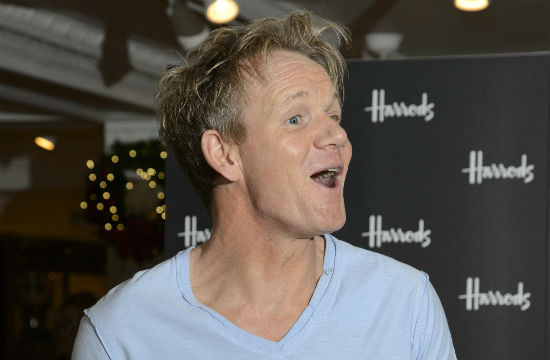 The UK boasts some of the biggest celebrity chefs in the game, and spanning all types: cranky badboy Marco Pierre White, arrogant show-off Gordon Ramsay, saucy stone-fox Nigella Lawson, the one-time-intriguingly-dubbed Naked Chef, now lovably pudgy Jamie Oliver, and modernist wunderkind Heston Blumenthal.
But could it be that England is tiring of its creme de la creme? According to Express writer Janie Lawrence, oversaturation is a problem:
"When did the middle class become such cookery bores? I should probably lay my cards on the table and confess I hate cooking. I operate one golden rule: if it can't be done on the hob it's not worth the faff. I'm happier still if I can bung it into the microwave.

Yet surely I'm not the only person fed up with the sheer volume of these 21st-century evangelists in high-tech kitchens. No wonder we're all getting fat.

Were a visiting alien to spend a week watching British telly they'd get the distinct impression we're monomaniacal about food. Within the past decade telly chefs have multiplied like some form of triffid."
We don't watch British TV except for ripping Skins in obsessive binges and streaming Downton Abbey ahead of time (just kidding, internet police!). But if Gordon Ramsay's dozen or so TV shows Stateside are any indication of the number of celebrity chefs clogging primetime across the pond, we suppose she has a point.
Plus, there's the insanely unrealistic cost of cooking the kinds of meals chefs demo on TV. We know; we hate-watch a lot of Barefoot Contessa. Explains Jamie:
"For most of us it's the telly equivalent of flicking through a sumptuous magazine and realising that however much you'd like top Italian furniture your own reality is Ikea.

For every one that can afford to fork out for goats' cheese or organic meat there are many others for whom the daily chore of feeding a hungry family puts both well out of their reach."
But for all of England's alleged celebrity chef weariness, Waitrose's reported a record-breaking holiday sales period due largely in part to customers showing up in droves to purchase Heston Blumenthal's branded holiday food items like hidden sauce figgy pudding and chocolate Christmas cake.
In any case, Great Britain, we're happy to snatch Nigella Lawson off your TVs for a season while she judges The Taste on ABC this winter. (Although we secretly suspect you'll begin to miss her.)
[Express]
Have a tip we should know? tips@mediaite.com