Epic Meal Time Spinoff To Feature Obscenely Gluttonous Food, Celebrity Chefs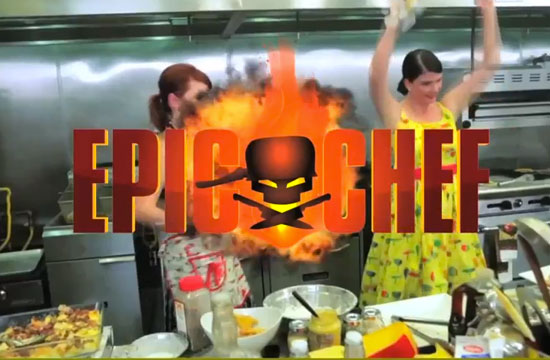 Epic Meal Time — that YouTube show where a bunch of drunk Canadian men get together and build the biggest, most gut-busting, flavor-confounding meals they can with Jack Daniels, bacon, and a deep fryer — will soon become a cooking competition, debuting on Friday.
Even more ridiculous (or epic, depending on your worldview and/or gender): Duff Goldman is a judge, along with food writer Timothy Ferriss. And Top Chef winner Ilan Hall is slated to compete. God help us all.
The basic premise of Epic Chef, according to Reuters, is simple enough: chefs must create insane, calorie-riddled, cholesterol-laden, alcohol-soaked, sodium-heavy dishes using the secret ingredients, and pit their Frankenstein creations against those of their opponent. The only two rules: chefs must use Jack Daniels and bacon in their dish.
For instance, the first episode includes dishes such as "fried chicken wrapped in bacon and stuffed with Cheetos, Doritos chips and corn-dog hash…wrapped in bacon and smothered in barbecue sauce." Reuters also mentions "gingerbread houses made of meat" and "meat breakfast cereal with gravy."
To top off your trashcan-sized meat sundae, the set looks like this:
"The show is complete madness," producer Rob Czar told Reuters on a recent set visit in Los Angeles, where two scantily-clad women in heels hurled greasy bacon and corn dogs at each other during a taping.
Many of the show's creators insist proudly that they will die because of this show. We're not going to get in the way of them exercising their free will. To remind yourself about the epic-ness of Epic Meal Time, and to see the super secret trailer for Epic Chef, check out the video below.
[Reuters]
Have a tip we should know? tips@mediaite.com