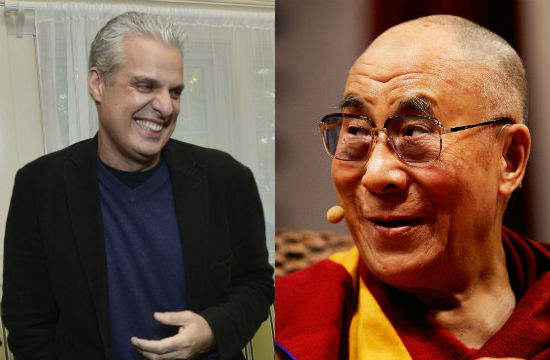 Chef-Extraordinaire Eric Ripert appears in French artist Mary Laetitia Gerval's new book in a semi-nude and gold body painted portrait representing Tara, the Buddhist God of Compassion. We understand the casting here, because Ripert is basically same thing as a God; he is to the food world what Mike Ditka is to 'Da Super Fans.
The book, called 00:58xy, is hardcore visuals, which is fine with the hardcore chef-Buddhist, who told Food Republic, "I don't read English too well. It's not my first language. Even when I have the French books, I don't really look at the recipes. I am always interested by the visuals."
So those love letters you've been sending Ripert should heretofore be love pictographs or something. And maybe if you keep thinking those positive thoughts about Sea Bass and helping people, you'll get a free ticket to Le Bernadin.
On Buddhism, Ripert told the site, "I practice everyday… I have a temple in my house. It's more a meditation room." Who's Ripert's main Buddhist homie? Obviously: "My main teacher is the Dalai Lama. I have other teachers, but the main one is His Holiness." Wait, we thought "His Holiness" was Eric Ripert.
This at least explains why you couldn't get a rezzy at Le Bernadin that one time, because Ripert closed the place down for the Dalai Lama one evening, which we guess is understandable. More fun Lama facts coming your way: He eats everything. "Ultimately, Buddhists understand that we are omnivores by nature," Ripert said. "If you can be vegetarian, that's very good. If you cannot be, that's okay. Actually, His Holiness is not vegetarian."
Here's what he ate at Le Bernardin while you were peering in the windows wondering why so many tables sat empty and you couldn't get one: "I called someone on the West Coast and got a wild salmon, which we cooked for him. He didn't really care because monks accept whatever you give them. If you give them something good or bad, it is not important."
If Buddhist's weren't such nice people, that could make for a pretty good practical joke, but that would bring loads of bad Karma which Ripert obviously is allergic to — for his part in the project, he's selling personalized books for $500 apiece to benefit City Harvest. See more in his Instagram video below.
The only question that remains is, did the Dalai Lama tip?
[Food Republic h/t Eater]
RELATED:
PHOTOS: Eric Ripert's Sultry Teen Years
WATCH: Eric Ripert & Jay McInerney Describe Wine In Terms Of Angelina Jolie's Breasts, Probably Get An Editor Fired
WATCH: Anthony Bourdain Takes Eric Ripert To Look At 'Pottery Of People Doing It'
Have a tip we should know? [email protected]