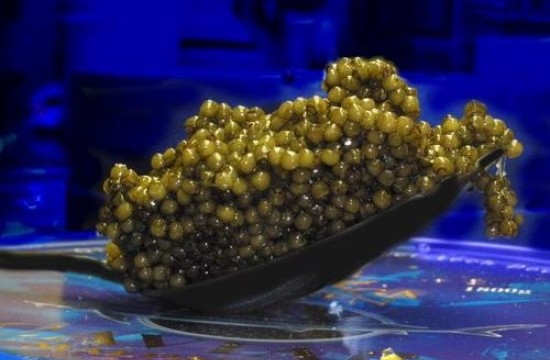 Let us preface this good-natured ribbing of Eric Ripert with the following caveats: we have spoken at length about his food and his personality. We do not believe he is an elitist. We like him. But… he did just partner up with a producer to make his own line of caviar.
Ripert has been chums with one Hossein Aimani, president of Paramount Caviar, for over 20 years. Perhaps they belong to the same country club, or share a yacht, or went to the same college preparatory fish school together. (Phillips Andover Sole, most likely.) Anyways, due to their spiffing good friendship, they've decided to partner up and co-brand a line of sturgeon caviar — replete with Eric Ripert-approved creme fraiche, French blinis, and mother-of-pearl spoon.
Monseiur Ripert! Your caviar is divine. Pray tell, however did you come up with it?
"I always have had an appetite for eating caviar. Ever since I first tasted it when I was ten years old, I have been in love with this enchanting pearl… Over the years, I have developed an expertise and strong passion for this luxurious delicacy and that is why I am ready to create my own exclusive line of Imperial Select Caviar!"
Well put, old chum. Shall we rendezvous later at the top hat and monocle store? Why yes, we'll send the butler ahead of time! Let's just take a look at the prices for your divine caviar: a four-ounce tin, arriving in a satin pouch, costs $525, and eight-ounce tins cost $1,050.
Okay, wow, we're done pretending that we're rich peoples.
[Paramount Caviar via Grub Street]
Have a tip we should know? tips@mediaite.com