Even Eric Ripert Has to Wait in Line for His Favorite Sushi (And He Loves It)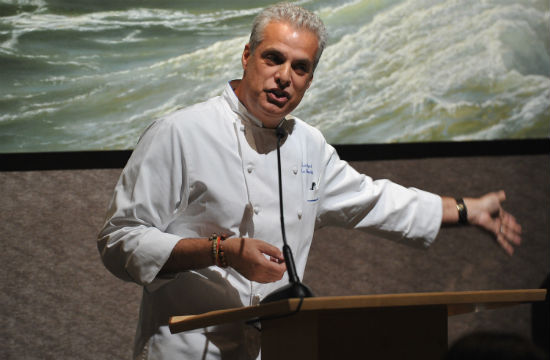 Not many people can imagine a point in their lives where waiting in line would ever be exciting, except, apparently, for Eric Ripert. The Extremely Famous and Incredibly Coiffed chef dragged Alan Richman with him to his favorite sushi restaurant in New York City — a place with a set omakase menu, a strict reservations policy where no one picks up the phone, and a line out the door.
Like most humans, Eric Ripert hates standing in line, except when it comes to Tanoshi Sushi Sake Bar:
Sushi is mostly about fish. So is Le Bernardin. When a French chef who operates the best French fish restaurant on earth tells you he's interested in another chef with a fish restaurant, it gets your attention. Ripert told me that the first time he went to Tanoshi, he didn't have a reservation and the chef said to him, "Nope, no seats." He found that humorous.

"I love it," he said to me. "I love the inconvenience of it. Tanoshi is the anti-Le Bernardin. When you call for a reservation, nobody calls you back. You have to wait outside. You have to go to the wine store and buy your own sake. It's so Japanese. They don't care what you think, or whether they are nice. They do it for the love of doing it."
Is there a point in one's career, perhaps around its zenith, where being forced to act like a commoner is no longer an annoyance or a Kafkaesque struggle for meaning? Can we go to there? And is that also the point where we can easily convince Alan Richman to buy us $113 bottles of sake with his GQ money, like Ripert does in the article? Or is it just a thing that, as Richman notes, the Japanese just do and everyone has to deal with it?
Read more about Eric Ripert switching places with a pauper below.
[GQ]
RELATED:
WATCH: Danny Meyer Says Your Burger Tastes Better After Waiting An Hour In Line For It
Will New Yorkers Forgive Googa Mooga?
Waiting In Line For Cronuts, As Told By A 10-Year-Old Boy
Have a tip we should know? tips@mediaite.com