Eric Ziebold Delivers Cheery Commencement Speech To Recession-Proof C.I.A. Grads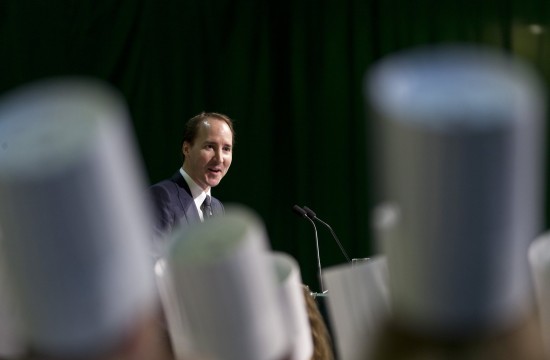 On Friday, CityZen executive chef Eric Ziebold may have delivered this year's only non-depressing commencement address to the newly-minted graduates of the Culinary Institue of America.
"For all the technological advances, we still haven't figured out how to get by without eating," he told the Class of 2012 during their graduation ceremony in Hyde Park. "So there is job security."
And the James Beard Award winner has a point: though employment is the worst it's ever been for recent college grads, the restaurant industry is exploding, which gives anyone who's graduated from the renowned CIA a huge advantage in the category of Young People Doing Something With Their Lives Rather Than Crying In Bed All Day.
However, Ziebold, himself a graduate from 1994, cautioned those pesky, spoiled Millenials to avoid thinking that their CIA degree will score them the fancy Michelin-starred restaurant and the television deal. "Remember when you are having a long, hard day at work that someone else in this world will be putting in the extra effort. That's who you are competing with," he said. "Don't aspire to be a flash in the pan or the flavor of the moment. It takes hard work to be successful in this industry."
Ziebold can back his words up: after he graduated, he did stints at Spago and Vidalia before working eight years in the Thomas Keller Empire at both The French Laundry and Per Se. After helping Keller open Per Se in 2004, he left for Washington, DC, where his CityZen eventually won multiple accolades.
Recession life lesson: Your degree in art history is useless, so get in the kitchen and bust yo ass.
[The Culinary Institute of America]
Have a tip we should know? tips@mediaite.com