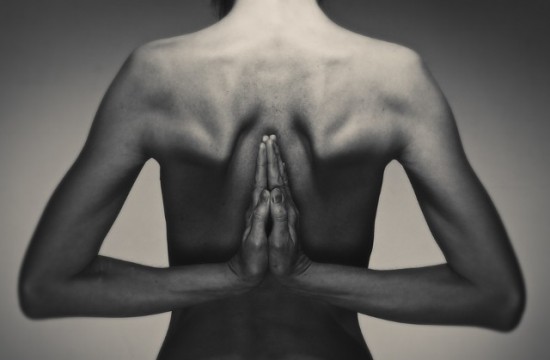 You know the horrifying "industrialised world's modern trapping" that is clothing? You know when you're sitting at a restaurant, shoveling food into your face and you're like, "Gee, I wish I and everyone else here were in the nude?" No? Anybody? Us either. But, if that does sound like it's up your alley, The Bunyadi in London is the place you're going to want to go.
And you wouldn't be alone. The wait list for more tickets is already 8,454 people deep, and is growing as we're writing this. According to the press release:
With great attention to detail, The Bunyadi plans to use only the most natural, home-grown ingredients to envelope its patrons in a Pangea-like world, free from phones, electric lights and even clothing (not compulsory)!

Guests will enjoy wood-flame grilled meals served on handmade clay crockery and edible cutlery, in a space void of the industrialised-world's modern trappings. They will dine under a canopy of candle lights, creatively partitioned with bamboo and wicker, as they recline on wood-hewn furniture.
The restaurant will have 42 seats and will be broken up into two sections, "pure," and "clothed." It's unclear at this point whether the clothed people will be able to see their "pure" counterparts, and vice versa. "We have worked very hard to design a space where everything patrons interact with is bare and naked," the release says. "The use of natural bamboo partitions and candlelight has enabled to us to make the restaurant discreet, whilst adhering to the ethos behind it. No doubt, this has been the most challenging project for us yet, which makes us very excited about it."
The restaurant will open in June 2016, and will last three months.
[H/T Vice Munchies]
Have a tip we should know? tips@mediaite.com