Everything is Awesome: Art Smith's 101 Gay Weddings, With Guy Fieri (!) As Officiant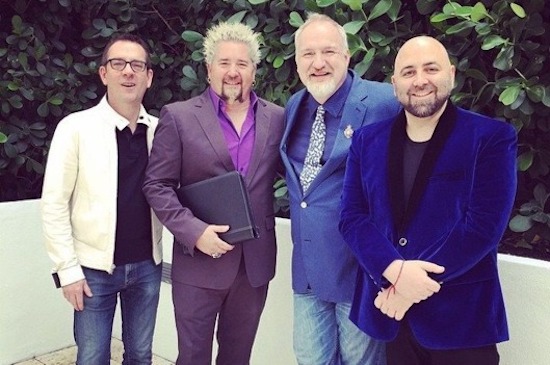 Will anything make us happier than seeing couples in love with chef Art Smith and Guy Fieri by their sides? Probably not.
Finally, the big day at South Beach Food & Wine Festival arrived: the day of 101 Gay Weddings, planned by Art Smith. Back in January, Smith told The Braiser how he wanted to help gay couples in Florida marry once the gay marriage ban was appealed (and even threw in a free Disneyworld honeymoon for the couples). Joyfully, he, with the help of his husband Jesus Salgueiro, Ted Allen, Duff Goldman, and Guy Fieri, did just that.
The Associated Press reports that the event was a success: the seven-layer cake made by Goldman was a smash hit, the dance party was killer (those pictures), and that the ceremony was especially touching. In fact, reports say that Fieri said he officiated the ceremony in honor of his late lesbian sister.
Oh, and check out Fieri's baller suit. In the words of the Lego Movie, everything is awesome.
Was an honor to be part of such an amazing day for so many loving couples #101gayweddings #sobewff pic.twitter.com/DP6olKrToK

— Guy Fieri (@GuyFieri) February 22, 2015
Thanks @ChefArtSmith @GuyFieri and @Duff_Goldman for the most unforgettable day. #101gayweddings pic.twitter.com/XZkLef0Uoz

— Brett Parker (@mrbrettparker) February 24, 2015
Some photos from @ChefArtSmith gay wedding party this weekend at #SOBEWFF Cake by @Charm_CityCakes Duff Goldman pic.twitter.com/rMaLXi58XN

— kelli kennedy (@kkennedyAP) February 23, 2015
@Duff_Goldman It was wonderful to meet you and enjoy your delicious cake! Thank you! #101GayWeddings @PradaMyself pic.twitter.com/OEOnHzF8Kt

— DJ Deanne (@djdeanne) February 23, 2015
We are families#FruitBowl16 love you Duff Tracy music stirs my soul.Chi Chi ♡ Boys ♡ @NoahSlamderson @Duff_Goldman pic.twitter.com/Og2tBrx9H4

— Chef Art Smith (@ChefArtSmith) February 23, 2015
@ChefArtSmith @GuyFieri @Duff_Goldman Thanks 4 an unforgettable day & priceless memories! #101GayWeddings pic.twitter.com/AELLcckzsg

— Hugo Lopez (@Gubancito) February 24, 2015
@debililly thank you for organizing an amazing event! @PradaMyself & I were honored to be part of #101GayWeddings. ❤️ pic.twitter.com/6mXnpPUmx2

— DJ Deanne (@djdeanne) February 23, 2015
Have a tip we should know? tips@mediaite.com