Everything Right and Wrong with Fuku, David Chang's Vision of Fast Casual Dining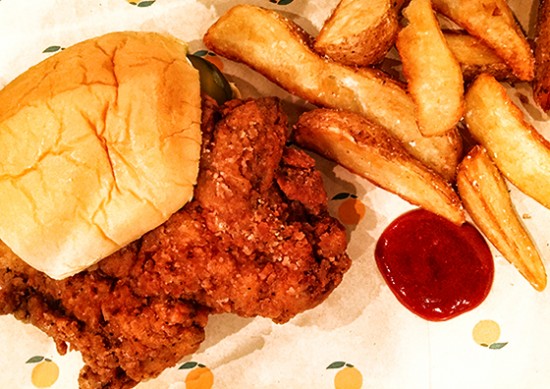 Yesterday we hit up the opening of Fuku, David Chang's spicy fried chicken sandwich shop in the former Momofuku Ko space in the East Village, which Eater live-blogged like it was 2005. And while the sandwich if phenomenal — a warped disc of habanero-marinated thigh meat wedged inside a plush Martin's potato bun — it's not worth the walk to 1st Avenue if you don't live in the neighborhood. A fast casual restaurant is supposed to be fast, cheap, tasty, convenient, welcoming, and familiar and right now Fuku's only halfway there.
Is it Fast? The line, which wrapped around the block at peak lunch and was nil when we visited at 345pm (Fuku closes at 4pm) is expedited by their debit/credit card-only payment system. Although the swiper was so burnt out by the end of the day, the cashier had to switch it out for another. There's seven people working behind the counter, frying, expediting, and making cocktails, but orders were held up for two reasons. 1.) Volume. Even the few people ordering at the end of the day still wanted sandwiches by the dozen, however the kitchen was good about fulfilling smaller orders that came after the bigger ones. 2.) Waiting for French fries to cook held up sandwiches that were ready to go. This wouldn't be a problem if the fries were as good as the sandwiches, but we'll get to that.
Is it Cheap? Sandwiches are $8, and while that's $3 more than Wendy's and Burger King, the Fuku customer's more likely to eat at No. 7 or Num Pang and this is right in line with their portion size and value. French fries are $3, and only detract from the sandwich, and since you now know to never order them you will instantly save $3 every time you visit. Three $8 sandwiches will always be a better value than two $12 combos of sandwich + fries + soft drink.
Is it Tasty? It's the best fried chicken sandwich in town. It's fresh, its fluctuating heat spread across the pounded thigh will have you digging in for a few juicy bites then stop you in your tracks. Three paltry pickle slices aren't enough acid to cut the heat, but they're fresh, and the team in the basement couldn't seem to make them fast enough. And the sweet, steamed bun's a perfect textural complement to the batter's rigid surface. The steak fries are hardened and flavorless, and only serve as a vessel to consume Ssam sauce, which if you haven't been to a Momofuku in a while, is the restaurant group's Srircha competitor which tastes like sugary barbecue glop and along with the fries reminds you that when a restaurant promises to devote itself to one thing — a spicy chicken sandwich — they're not kidding. Everything else is an afterthought.
Is it Convenient? If you live in the East Village there's no reason not to make this your go-to fast food option any limited hour of the day Fuku is open. If you live west of Broadway or south of Houston you need to ask yourself whether you're the kind of person who waits in line for Cronuts. Once you've made the decision, and you've snagged some counter stools, the dining experience is convenient. You take a number, they deliver your food. You finish, they clear your tray.

Is it Welcoming? Is any Momofuku restaurant welcoming? That's a question everyone has to answer for themselves. David Chang isn't known for Danny Meyer hospitality, and Fuku seems like it exists to test a menu not an environment. When Ko first opened with an open kitchen and diners served directly by the chefs, the chefs were not familiar with customer service and were disengaged from the customers in front of them, and the low counters here, combined with the wait time for your order, encourage you to engage the staff (at your own risk) in a way you'd never talk to a fry cook at Shake Shack or KFC.

Is it Familiar? For better or worse, it's every bit the experience, the flavors and hipsters and aesthetic and music, of dining at any Momofuku, all for under $10. Plus it has one thing going for it over all the other Momofuku restaurants — a killer spicy chicken sandwich.

Have a tip we should know? tips@mediaite.com