Famous French Chef Gives out Free Dom Pérignon in Exchange for Diners, Any Diners, Please Somebody Visit This Restaurant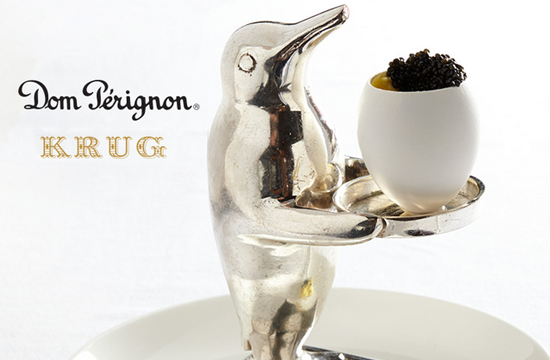 A New York restaurant run by famed French chef Michel Richard just announced a deal wherein people who purchase their prix fixe menu get free Dom Pérignon. At first blush, this sounds super great. Why, free Dom Pérignon at Villard Michel Richard? in New York? Why, that's the champagne of rappers and billionaires and, like, fancy people! Surely this is a great deal! There couldn't be anything wrong with a famous French chef giving out free bottles of $175 champagne just to get people to eat at his restaurant.
And then, of course, you realize that a famous French chef is giving out free bottles of $175 champagne just to get people to eat at his restaurant. There's something wrong here.
Eater NY's Ryan Sutton breaks it down to its most simple components: basically, Richard's New York restaurant has been receiving terrible reviews, despite the Citronelle chef's reputation. (A half-star review from Pete Wells called it an "awful hotel restaurant.") Hence, very few people are willing to shell out the dollars Michel Richard charges for dinner. Therefore, the Dom Pérignon prix fixe exists — but only parties of four ordering the four-course prix fixe menu (at $150 per, natch) get the Dom P. (Parties of two must settle with a sad, half-bottle of Krug.)
Just to compound the idea that this is a terrible sign that a restaurant is terrible, Sutton goes on:
Think about it. In exchange for the free champers you'll be be feasting on what could be New York's most expensive four-course menu, at $150. By comparison, Jean Georges charges $118 for four-courses while Le Bernardin commands $135, two entirely better restaurants that haven't had to resort to advertising free bubbly to attract patrons, to the best of our knowledge…Why not just do the $148 farmer's feast at Blue Hill at Stone Barns, one of America's best places to eat?
Because FREE DOM P, THAT'S WHY.
(Although…we just looked back at that sentence and realized that it looks like "freedom pee," which would more accurately describe this deal.)
[Eater NY]
RELATED:
Top Chef-testant Leah Cohen Admits Her Restaurant Is 'Clearly Failing' in Lawsuit
Lucrative Chef Jobs: Catering To Frats Will Make You Super Rich
Ironically, Pete Wells' Slam Of Guy's American Kitchen Boosts Fieri's Business
Have a tip we should know? tips@mediaite.com