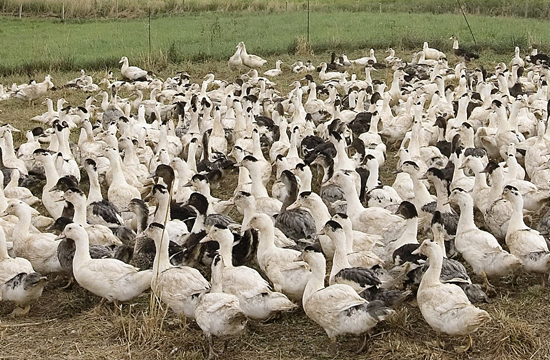 Dear California ducks: your livers will remain safe from being harvested for foie gras (or, as we like to call them, meat balloons), thanks to a federal ruling handed down today affirming that the controversial ban on foie farming is totally cool with the Constitution.
A three-judge panel on the 9th Circuit Court of Appeals rejected an attempt to overturn the law from a coalition of duck farmers, all based outside the state of California, which claimed that the foie ban was a restriction on interstate commerce and was thus unconstitutional. The law itself prevents the sale of duck livers unnaturally enlarged via force-feeding in California on the grounds that the practice is cruel and inhumane, while the farmers were all, "Oh, come on, they're just meat balloons."
The duck farmers also made the case that the "vague" law seemed to ban all products made from force-fed birds, like down jackets and duck meat. The judges disagreed, according to the LA Times, and remanded the case back to the district courts:
The 9th Circuit disagreed, concluding the ban was aimed solely at foie gras, a delicacy made of fattened duck or goose liver…

The ban applies to both "California entities and out-of-state entities and precludes sales within California of products produced by force feeding birds, regardless of where the force feeding occurred," the panel decided. "Otherwise, California entities could obtain foie gras produced out of state and sell it in California."

The court also said the producers had failed to show there was no other method of making foie gras than force feeding.
However, the law hasn't been enforced strictly in California up to this point, and barring a new ruling by a federal judge in a Los Angeles district court, people aren't generally going to care — except, that is, for PETA, because meat balloons have feelings too.
[LA Times]
RELATED:
Foie Gras Farmers And Restaurants File Lawsuit To Strike Down 'Vague' Ban In California
Ludo LeFebvre Has Moved On From His First Love, Foie Gras
President Francois Hollande Slams California Foie Gras Ban
Have a tip we should know? tips@mediaite.com