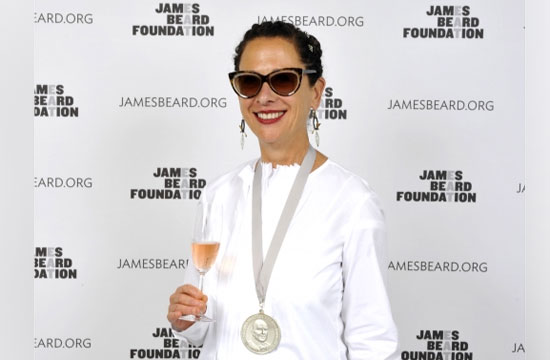 Last night, women repped hard at the James Beard Awards: six female chefs went home with shiny medals, and also took some of the most prestigious awards of the evening. According to our research, this is the highest number of female chefs to ever win in a single year.
This is a Big Deal, considering that the James Beard Foundation traditionally hasn't recognized many women in the past: back in 2010, Amanda Cohen calculated that "In four years, 93 James Beard Awards have been given out, and 15 of them have gone to women." (That is roughly 16%! That is way less than the percentage of people in the world who are women.) Last year, the odds improved slightly, with four women taking home Beards (including a Lifetime Achievement Award for Cecilia Chiang), but this year, not only did women take home awards, they took them in the competitive cooking categories as well. (Ironically, the Outstanding Pastry Chef award — normally the obligatory "Here's a Beard for a female chef" category — was won by confirmed man Dominique Ansel.)
So which ladychefs are you gonna run out and high-five right now? These ones!
Best Chef: Northwest (AK, ID, MT, OR, WA, WY)
Naomi Pomeroy, Beast, Portland, OR
Best Chef: Southeast (GA, KY, NC, SC, TN, WV)
Ashley Christensen, Poole's Downtown Diner, Raleigh, NC
Best Chef: South (AL, AR, FL, LA, MS, PR)
Sue Zemanick, Gautreau's, New Orleans (who tied with the equally awesome Ryan Prewitt of Pêche Seafood Grill; NOLA in the house)
Best Chef: New York City (Five Boroughs)
April Bloomfield, The Spotted Pig
Outstanding Restaurateur
Barbara Lynch, Barbara Lynch Gruppo (No. 9 Park, Menton, B&G Oysters, and others), Boston
Outstanding Chef
Nancy Silverton, Pizzeria Mozza, Los Angeles
In addition, four women were honored with America's Classics awards and one, Sherry Yard, was inducted into the Who's Who along the likes of David Chang, Paul Kahan, and John Besh.
All in all, a significant night for female chefs — especially given the fact that the past year was full of controversy over the role of women in the kitchen.
(Hold on a sec, we need some obligatory Beyonce music here.)
RELATED:
Why Aren't There More Women in Restaurant Criticism?
The New York Times Does The 'Lady Chef Debate' Right by Actually Asking Female Chefs for Their Opinion
Amanda Cohen On Lady Chefs, Comic Books, and Pete Wells' Shrub Disguise
Have a tip we should know? tips@mediaite.com