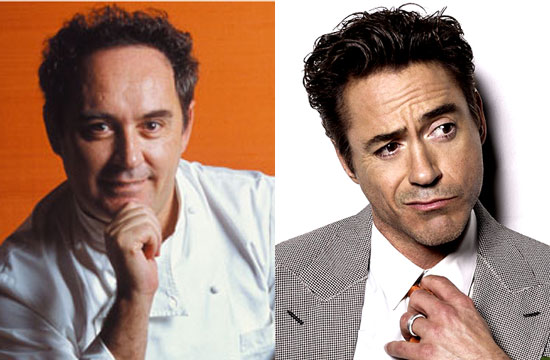 In a recent interview with Metro, renowned chef Ferran Adria revealed who he wanted to portray him in The Sorcerer's Apprentice, his upcoming biopic: Iron Man star Robert Downey, Jr. "He loves eating, he's a great actor, he's been in some fantastic films, he's about my age," Adria rationalized, adding that no casting decisions have been finalized yet.
While we (and the film's producers) initially pegged Javier Bardem as the Best Adrià Actor out there, Robert Downey, Jr. is serendipitously perfect for the role — and no, not just because of the very obvious fact that every right-thinking man would want Robert Downey, Jr. to portray him in a biopic. Not only do they kind of look the same (see above), but RDJ's ouvre is well-suited to the crazy-haired genius chef. (Plus, Adrià never wanted George Clooney to play him in the first place. Suck it, Clooney!)
Point one: RDJ is brilliant at portraying genius billionaire playboy philanthropists (a.k.a. Tony Stark). Sure, Adrià's only got the "genius" and "philanthropist" part, but really, it's not much of a stretch for the method actor to pretend not to be a billionaire playboy (it's called acting). And besides, these days one can't think about either Adrià or Downey, and not think of brilliant scientific minds at work:
Point two: RDJ can play sensitive arteest goofball with a higher purpose, as seen in this clip from Chaplin:
Point 3: If Robert Downey, Jr. can play a black guy (or rather a white guy playing a black guy), a Spanish genius isn't so far out of his league.

We know you read us, Iron Man and upcoming Chef director Jon Favreau. We know you're out there. Please make this happen, and hell, we'll support a Happy Hogan movie.
RELATED:
el Bulli Biopic Producers Want Javier Bardem In Lead Role
elBulli Feature Film Based On Lisa Abend's The Sorcerer's Apprentices Gets A Green Light
Ferran Adrià Doesn't Want George Clooney Playing Him In A Movie About His Life
Ferran Adrià Might Not Re-Open el Bulli, After All
[Metro UK]
Have a tip we should know? tips@mediaite.com