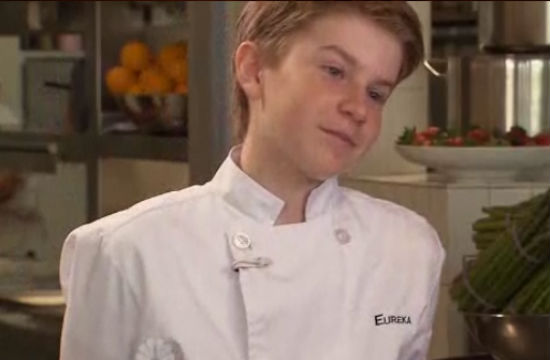 NBC Nightly News recently stumbled across thirteen year old "chef" Flynn McGarry, who is both cute enough to star on his own Disney series, and talented enough to be handed the keys to the kingdom at Los Angeles restaurant Playa, where head chef John Sedlar allowed Flynn to stage a kitchen takeover and serve a 9-course tasting menu to a dining room of patrons that sold out immediately.
Reviews from patrons were pretty rave, but John kept his head on straight amidst the cuteness and confessed that a few of Flynn's ideas were rough around the edges. Man, though, does this kid know his way around a tweezers and a pile of herbs. We don't know how his food tastes, but he plates like a structural G. Trout with braised leeks and caramelized fennel, anyone?
He can also order and work his way around a restaurant kitchen like a BAMF. He's hip to the lingo and everything! "My goal?" he replied when asked by NBC. "Three Michelin stars, Restaurant Top 50 List, hopefully in the Top Five."
Ladies, start lining up now. If Kitchen Confidential taught us anything, it's that this kid is going to be an insanely appealing bad boy in seven years and you don't want to miss your chance. But no, we are not sexualizing this 13-year old boy because that would be icky, we're just SAYING, he's going to make a super awesome grown-up some day using adult references.
Visit msnbc.com for breaking news, world news, and news about the economy
[Eater]
Have a tip we should know? tips@mediaite.com