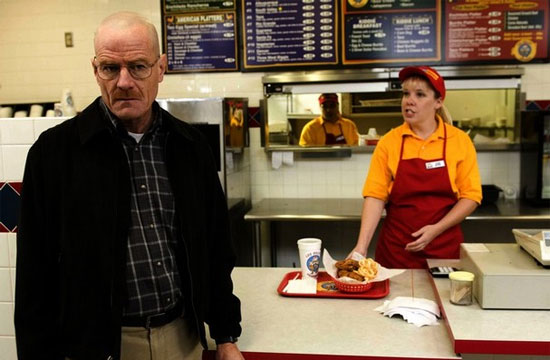 Grant Achatz can take his cancer remission and his chemistry and go fiddle with some Michelin Stars. You know what other chemistry genius in remission is also a brilliant cook? Walter White. And as the AP reports in the leadup to the final episodes of Breaking Bad (Oh GOSH, we're so excited), White (and every cook he's ever been associated with) is the reason that people are currently making food pilgrimages to Albuquerque, crawling on their hands and knees for a taste from some of the series' iconic restaurants.
Not only do tourists swarm on the burrito restaurant used as a front for an enormous meth operation, they're also hunting for donuts topped with "Blue Sky" (the main character's signature meth) and buying dollar bags of blue rock candy (actually used on the show itself). This is something you can only get in Albuquerque, folks: blue rock candy.
And once you're done, why not go into the kitchen and visit the chef you've traveled hundreds of miles to see?
"They ask if they can take pictures. They ask if Gus is here," said Rachel Johnson, 19, a shift manager at the Twisters burrito restaurant in Albuquerque's South Valley, referring to the show's character Gus Fring, played by actor Giancarlo Esposito. The eatery has served as the location for the "Los Pollos Hermanos" restaurant where Fring runs his drug operation on "Breaking Bad.
Who knew that Albuquerque was such a magnet for Breaking Bad foodies? Screw Alinea, everyone; let's go observe Bryan Cranston's character be an expert in crystallography at the hottest new restaurant around. It's so secret, not even the DEA knows where it is.
[NYDN]
Have a tip we should know? tips@mediaite.com