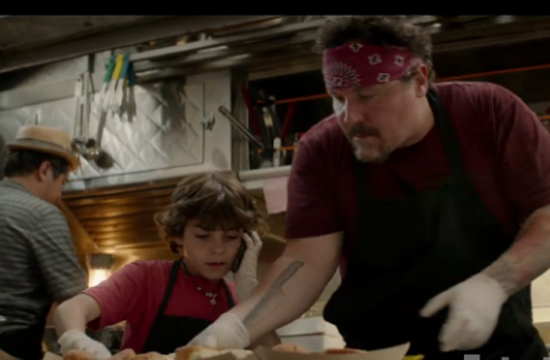 OK, yes, a food truck aboard a cruise ship is a bit like a food truck jumping shark. But just because the feature film Chef takes place on a food truck doesn't mean it's like, all over.
Daniel D'Addario at Salon has plenty o' criticism for Chef, among them that 1) Jon Favreau is too chubs to get both Scarlett Johansson and Sofia Vergara, and 2) "there's nothing authentic about eating Cuban food prepared by a white man in a truck he refurbished using his earnings as a restaurant chef." Yowza. But among his chief complaints: Food trucks are the dearth of food these days. What D'Addario can't believe is that a food truck could possibly be so popular. He writes:
"But what's strangest is the notion that a food truck would incite a national frenzy as it makes its way across the country. … t's a story of what success looks like as framed through a rudimentary understanding of hipness: Social media is a happening thing, and so too is food served from a truck. The dining public will race to try whatever is new, even if it's served in a manner that's both somewhat inconvenient and so tired it's almost asleep."
Has a once-practical source of food, as D'Addario points out, turned into pure kitsch? Possibly. But D'Addario is forgetting one key component of Chef — the behind-the-scenes Roy Choi. Let's recount the history of Choi, shall we? Choi attended the Culinary School of America. Choi worked in a handful of restaurants, including Le Bernadin. Choi opened up the Kogi BBQ food truck and began rolling out during Thanksgiving 2008 — and we know how that story unfolds. Food & Wine Best New Chef. More restaurants. Memoirs. So uh, yeah, it's not all that improbable that a food truck "would incite a national frenzy," because one food truck already did.
Did Choi pave the way for a Royal Cruises food truck and all the inevitable knockoffs to follow? Very likely so. But Choi also opened up the door for a convergence of high-end fine dining and street food — a trend that will likely not die out anytime soon. It's not so much a duality, as D'Addario argues; that high-end dining = evil and simple food trucks = good. The nuances of how food trucks have shaped brick and mortar restaurants, and vice versa, are not so simple. Choi may in fact exemplify how the lines have blurred — and how it's an exciting time to be working in a restaurant, food truck, or upon a Royal Cruises' food truck anywhere else.
[Salon]
RELATED:
Chef Wins Tribeca Film Festival's Narrative Award for Best Feature
Jon Favreau 'Really Made an Effort Not To Waste' Prop Food on Chef
Which 'Hot Young Urban' Bourdain Protege Is in Talks for A CNN Show?
Have a tip we should know? tips@mediaite.com