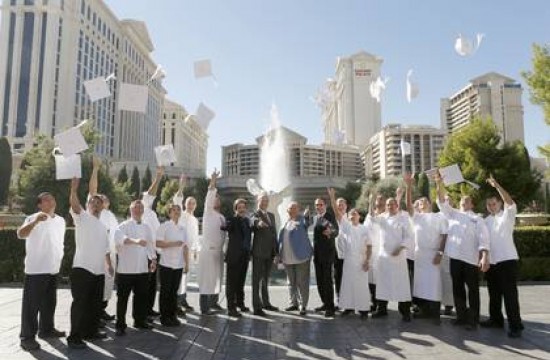 Are you tired of your everyday life, working in a supermarket or a coal factory or the White House Office Of Management And Budget? Do you dream of coming up with catchy abbreviations for olive oil and chatting it up on the televisions? Want to unleash your inner potential as a celebrity chef?
Then try the Food Network's brand new Food University! Located in culinary capital of the world Las Vegas, Food University promises to give you the world-class education you need to achieve your goals of becoming a celebrity chef via earning your totally useful degree of "Enlightened Palate Diploma."
Much like its educational counterpart the University of Phoenix, Food University charges moneys for its three-day courses in cooking, wine and cheese pairing, and Iron Chef-ing. With one easy payment of $1,995, students at the Food University get to spend three full days in "an enthusiastic environment and fun-filled environment that will allow the participant to absorb naturally, without thinking they're spending their vacation working," says culinary entertainment producer/Dean Of EVOO Richard Gore, according to The Daily Meal.
But before you start convening Congressional hearings over the unscrupulous behavior of the Food Network in creating a diploma pepper mill, the press release points out that the entire fee is going to Keep Memory Alive, an organization working to find cures for degenerative brain disorders. Which is great, because it will allow you to remember, forever, the stupid decision to pay $1,995 for a three-day celebrity chef school.
Have a tip we should know? tips@mediaite.com