WATCH: Try Not to Slap Everyone in This Trailer for a Documentary about Uber-Rich Foodies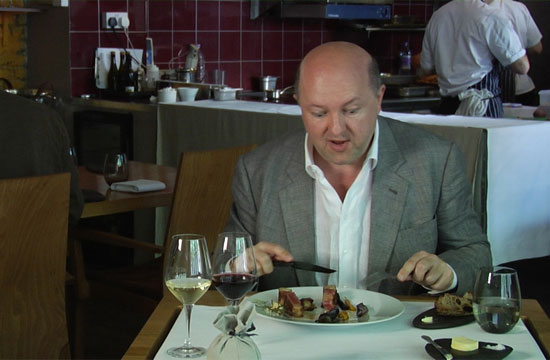 We don't know the intent of the makers of Foodies, a documentary about "the culinary jetset" who travel around the world with the exclusive goal of eating at the finest restaurants. We're not sure if their goal is to make us absolutely hate every single one of the subjects who appear in this trailer. If that was their intention, they sure succeeded.
Following the lives of four absurdly wealthy people who fly all over the world to eat at fine dining establishments with impossible-to-get reservations, Foodies makes the terrible decision to use the term "foodies," a term that died among any serious eater about four years ago. (Honestly, we hate that term. It sounds like someone who wants to rub food all over their genitalia.) Secondly, how wealthy are these subjects? So wealthy that they take private boats, jets, and fancy cars to get fancy tables in, say, the basement of Arzak, where Elena and Juan Mari Arzak will literally hover over them to see if they enjoy their meal.
Are we simply envious of the uber-rich who get the privilege of eating privileged food? Not at all, because thirdly, apart from one grateful supermodel who grew up in Soviet-era Lithuania and considered bananas a rare treat in her childhood, everyone in this trailer sounds terrible, spoiled, myopic, and — oh, there aren't enough pejoratives to describe these people, so we'll let these actual quotes from the actual subjects speak for themselves:
"I'm not fond of this particular champagne, but [these are] the trials we have to go through."

"My parents sponsor me financially, and I'm very grateful for it." [said as he enters uber-exclusive restaurant Noma]

"Everybody thinks they're an expert on what good food is. They don't want to let you think about food as something for an elite group of people. I think you have to overcome that problem."

"For lunch, you get 13 courses. For dinner, you get another 13 courses. And sometimes, you feel that you are packed."

"I've been to 1,200 restaurants. It's a game."
The Huffington Post, which shares our feelings, has some hope that this film might actually be redeeming — it was made by the people behind Jiro Dreams of Sushi, after all — but we absolutely disagree. Jiro focused on the art of sushi, and Jiro Ono's monomaniacal drive to achieve perfection, which is an infinitely more relatable subject than spoiled rich people who use their parent's money to eat good food. Even worse, the film seems to treat them gently: their subjects are called "slightly bizarre but charming food maniacs," which makes them sound cuddly and quirky and not like the superficial gluttons that they appear to be.
Foodies, produced by Fortissimo Films, is scheduled to premiere in 2014. Please watch this trailer and tell us if we're over-reacting, because we are 100% sure that we are not.
[The Huffington Post]

RELATED:
New Breed of Celebrity Chef Chickens Eat Nothing but Celebrity Chef Food
Chefs Find New Racket in Teaching Nannies How to Cook for Rich People
Billionaire Accused of Insider Trading Once Paid $100,000 to Be Guy Fieri's Friend
Have a tip we should know? tips@mediaite.com