Forbes Editor Recommends Popping Into Alinea For A Quick Dessert When In Chicago Because Why Not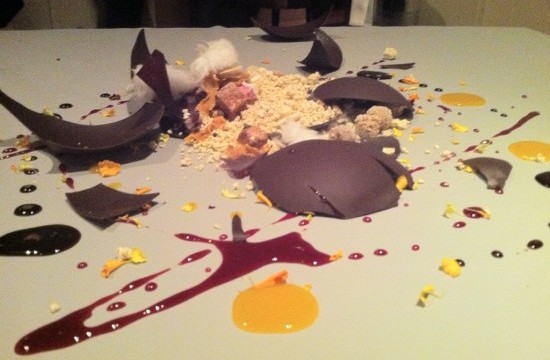 Today, we're putting on our snarky blogger hat to make fun of a person we believe calls himself a journalist: one Alex Skjong, whose recent Dining Out Guide in generic looking travel website Startle.com has us smacking our heads in disbelief — especially since his professional title is "Forbes Travel Guide Editor."
The premise: Only have one day in Chicago? Why not spend it eating at the most corporate, chain-y schmoozeholes finest restaurants for every meal? And why not go someplace like, say, Alinea — for a quick dessert?
Dessert

By this time, your sweet tooth will be aching to be satisfied. Forward-thinking Five-Star Alinea, brainchild of Grant Achatz and Nick Kokonas, is a gastro lab that will push the boundaries of your concept of dessert. Nothing will have your taste buds in awe as much as the signature chocolate course. Featuring caramel, blueberries, chocolate and a chunk of freeze-dried milk, this mix-it-yourself delight will be the perfect wind down to your culinary tour of Chi-Town.
We'd really love to go to Alinea for dessert, seeing as we'd normally have to eat eighteen-plus courses in a prix fixe tasting menu in order to get anywhere close to whatever boundary-pushing dessert Achatz comes up with in his crazy mind.
Wait — we can't do that? It's impossible to even walk into Alinea and we have to make reservations using a crazy computer system months in advance? But — this guy is a Forbes Travel Editor! It's unthinkable that he didn't research the restaurants he wrote about in this boilerplate listicle.
("#Factcheckplease," Alinea co-owner Kokonas sighed, hashtaggedly, over Twitter.)
Have a tip we should know? tips@mediaite.com