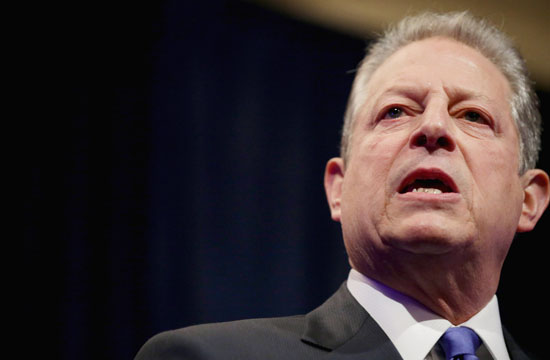 In the latest round of celebrity vegan outings, former vice president Al Gore was dragged out of the grass closet this week by Forbes magazine. Surprise! Al Gore has decided to alter his dietary patterns to fit an environmentally-conscious lifestyle and reduce the — oh, who are we kidding, this isn't a surprise. Though apparently, no one knows exactly why.
The Washington Post describes how Gore got outed as a super cereal vegan:
Gore's recent decision to forgo animal products surfaced as an offhand reference in a Forbes magazine piece about Hampton Creek Foods, an upscale vegan product line carried in Whole Foods. Ryan Mac's article, which posted Saturday, chronicled how wealthy investors including Bill Gates, Tom Steyer and Vinod Khosla have poured money into the company, which hopes to take down the U.S. egg industry with offerings such as a plant-base mayonnaise.

"Newly turned vegan Al Gore is also circling," Mac writes.

An individual familiar with Gore's decision, who asked not to be identified because it involved a personal matter, confirmed that Gore opted a couple of months ago to become vegan. Gore's office did not immediately respond to a request for comment.
Okay, that is surprising, especially coupled with the revelation that Gore hasn't said exactly why he went vegan. We thought that any announcement of Gore's veganism would be accompanied by a PowerPoint presentation. Ugh, sorry about the joke, Al. We would never judge you for being who you are. (Actually, yes we will.)
Gore isn't the first high-profile Clintonite to go vegan. That distinction…actually goes to Bill Clinton, who revealed his veganism in a high-profile interview with Sanjay Gupta back in 2011.
RELATED:
Vegan Calls Next Menu 'Inherently Unvegan'
WATCH: Vegans Descend Upon The Taste, Much To Anthony Bourdain's 'Terror'
WATCH: Aziz Anzari And Reggie Watts Sing About Feeding Cheese To Vegans
Have a tip we should know? tips@mediaite.com