Frank Bruni Flips On Paula Deen: Once His 'Champion Of Downscale Cooking' Now 'Deep-Fried Boor'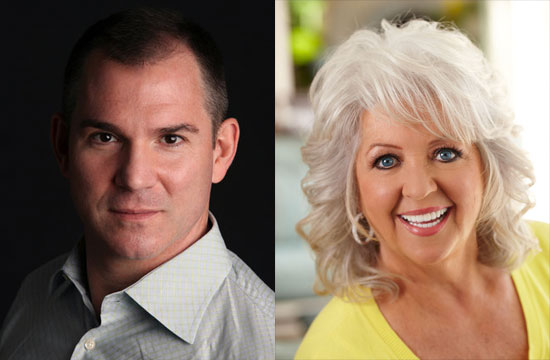 Much like it did with the Iraq War, the New York Times has completely reversed its position on Paula Deen. Two years after Times editorialist Frank Bruni defended Deen against Anthony Bourdain's accusations that her food was killing America — even saying that she was necessary to the culinary landscape — the former critic now calls her a self-serving "boor".
"Her manner may be as sugary as her cooking, her smile as big as the hams she hawked for Smithfield," he writes today. "But she doesn't pause when she should. Doesn't question herself when she must."
"There's a dearth of reflection, a deficit of introspection, and that's not just a generational thing and not just a regional thing, as some of her fans and other observers have begun to assert, unprepared to surrender their image of Paula the Southern Eccentric to the reality of Paula the Deep-Fried Boor."
(Thank you, Frank Bruni, for validating what we've always felt: Paula Deen might have some sort of racism aphasia.)
Now, let's juxtapose his raves with the last time he devoted e-ink to Paula Deen, a column in which he begged the food world to stop treating her like some sort of culinary rube for cooking things in piles of butter:
"Besides, treating Deen, Lee & Co. with anything that smacks of moralizing and snobbery isn't likely to move them or their audience toward healthier eating. It's apt to cook up resentment. And we've got enough ill will and polarization in our politics. Let's not set a place for them at the table."
There's a key difference between liking Paula Deen for her food and slamming her for her backwards views on race, and Bruni acknowledged that the public's opinion on Deen has changed since his last op-ed (notably, for the latent hypocrisy in accepting a paid position as a drug spokeswoman in the same breath as announcing her diabetes diagnosis). But now that Deen herself is an agent of political polarization, Bruni's dropped her so very, very quickly. Can celebrity chefs become corrupt? He thinks so:
You knew then that she had levitated to some altitude where she felt above reproach; that her investment in the bacon-wrapped burlesque of Paula, Inc., trumped a healthy conscience; and that self-examination was a condiment gone from her larder. And it's through the lens of that knowledge that many Americans responded to her deposition and questioned what was in her heart.
On a sillier note, he's still good at them food metaphors (and sometimes similes).
RELATED:
Paula Deen Is Exchanging Butter For Hope, Whatever That Means
Does Frank Bruni Miss Being A Food Critic? A Review Of His Tortured Op-Ed Food Metaphors
The Food Network Pulls Paula Deen's Episodes From Schedule, Spares Her Son
Have a tip we should know? tips@mediaite.com