Frank Ruta: Barbara Bush Tricked Me Into Serving Broccoli To George H.W. Bush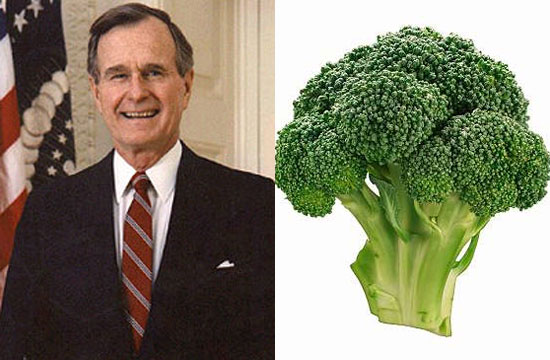 Once upon a time, not too long ago, White House chef Frank Ruta had to strongarm a president into at least trying broccoli.
A James Beard Award winner and the chef/owner of Palena in Washington, DC, Ruta was at the American Food Journalists Conference recently, speaking on a panel about chefs in the White House. Some brilliant person in the crowd asked whether they'd prepared food that the First Family "actively disliked," reported the Washington Post.
Yes, said Ruta, but he was set up by then-First Lady Barbara Bush, the devious strumpet.
Everyone, from the White House kitchen staff to this segment of the children's show Histeria!, knew back in the early 1990's that the first Bush hated broccoli, to the point where he banned it from Air Force One. When he was out of town, however, Barbara would specifically ask for foods that the president hated. (Jeez, what kind of picky eater was HW?)
One day, Ruta said, he prepared a broccoli dish for Barbara Bush. He couldn't remember the exact preparation, but he remembered the first lady loved it enough to suggest that even her husband would like it. "Make that for him," Ruta recalled her saying.

So he did.

The president "just did not care for it one bit," Ruta said drawing out each word as if still browbeating himself with every syllable.

"Maybe she was setting me up," the chef added. "I don't know.
Thank god Sam Kass was not in the White House during the first Bush administration. Although here's an imaginary scenario we would love to see: the first Bush rampaging through the White House Kitchen Garden while Michelle Obama and Sam Kass chase after him.
Also: Barbara Bush should have simply told her husbad that Leaf Force One was coming for a touchdown and made airplane noises while she tried to get him to open his mouth.
[WaPo]
Have a tip we should know? [email protected]