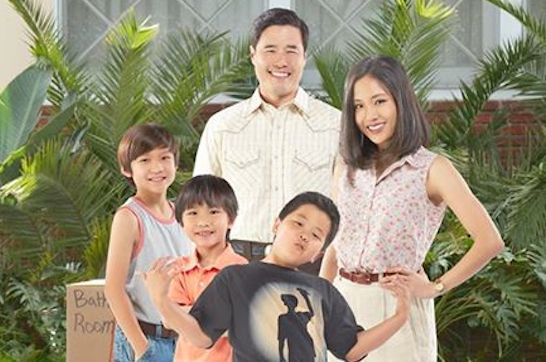 Fresh Off The Boat is a repeat this week! Really, ABC? You've got 13 episodes in the can and already you are doing repeats? And they wonder why people are turning away from the broadcast networks.
Since that's the case, I took some time to sit and think about the recaps I've been doing and seriously considering if I'm actually falling into the trendy (horrors!) phenomenon of hate-watching. It has become a thing for watchers of shows (both good and bad) to recap in the snarkiest of 'tudes, who often walk that fine line of commentary and cynicism.
It's been brought to my attention (hello Jeff Yang! Real-life father of the kid who plays Eddie!) that I hate this show and shouldn't be forced to recap. Hate is such a harsh and mostly untrue word. Really, I think I was just hoping ABC wouldn't turn it into a carbon copy of the other comedies they have on now, but for the most part, they have. If you look at The Goldbergs, The Middle and black-ish, they all have a very similar look and feel. A voiceover, a wacky family, an episode set-up, some silly ancillary side plot, then a feel-good wrap-up with yet another voiceover. Granted, I know the source material was "difficult" to translate from a not-quite-likeable source material to a half-hour sitcom. But when I heard it was being done, ABC had the chance to create something interesting, or at the very least different. Instead, they've homogenized it for the masses.
It's also odd that while it is similar in tone to ABC's other comedies, they've sloughed it off to a Tuesday at 8 p.m. slot and paired it with a video clip show, Marvel's Agents of Shield, and Forever. Not exactly a great match or vote of confidence. While the same day ratings and the three-day DVR numbers have been decent in the all important 18-34 demographic, it seems the show is still on the to be renewed/cancelled fence (yes, I watch way too much TV and read too many industry blogs about it). Personally, I would be surprised if it didn't get picked up for another short run next season, as ABC doesn't have much going for it. Unfortunately for the show, it may get shifted to their Friday night comedy block — I can't see chef Eddie Huang pairing real well with Tim Allen.
I do actually think the show has its moments, just not consistently enough. Unless this was the Constance Wu (who plays Eddie's mother) show, then it'd be hilarious and I'd be LMAO! She does seem to get most of the best lines and asides. It's like there is one really funny writer in the room who manages to sneak in their hits into her dialogue. If they could just spread it out evenly through the show, I feel things would click and flow better.
It's not that I hate the show, I just want to be a entertained a little more. The bones are there. For me, the show just needs some refinement. I think instead of #freeaustinwallace it's more like #makemelaugh. Till then, I'll keep watching and recap with #hope.
Earlier: Fresh Off The Boat, Episode 8
Earlier: Fresh Off The Boat, Episode 7
Earlier: Fresh Off The Boat, Episode 6
Earlier: Fresh Off The Boat, Episode 5
Earlier: Fresh Off The Boat, Episode 4
Earlier: Fresh Off The Boat, Episode 3
Earlier: Fresh Off The Boat, Episode 2
Earlier: Fresh Off The Boat, Series Premiere
Follow Austin Wallace at @placesiveeaten
Have a tip we should know? tips@mediaite.com